Spent another day futzing around with the postcards I'm sending out about our group show at Hawthorn Gallery. I don't know why I have to be so picky, but as I was stuffing the cards into neon-colored envelopes, I suddenly realized that once people opened them and tossed the envelope, they would no longer have my phone #, address, or website.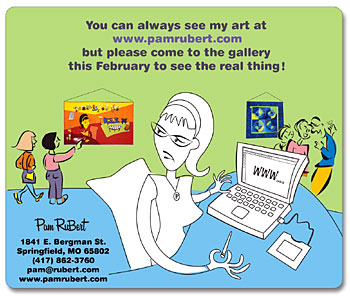 So I designed a big sticker to add to the postcards with all that information, plus a bonus cartoon. My theory has always been that people will always read the cartoon first. I was actually very proud of figuring out how to overprint the color on the Avery labels so my cartoon has a full-bleed. Ho ho, more fun with common office products.
I know I spend too long on these mailings, but I really feel that they are like little gifts I'm sending out to friends and family in the mail, and I like them to be just right. I especially like picking out pretty stamps at the post office. These cards will be mailed with the New Year's Lunar collector stamps.
So now it's back to Office Max to get more neon envelopes…