With a nod to Dilbert, my favorite cartoon besides Calvin and Hobbes, PUMPED so much describes how I felt after yesterday's meeting of our art quilt group. I was so impressed with the amount and the quality of work we have been able to bring together in a short time for our BIG SHOW.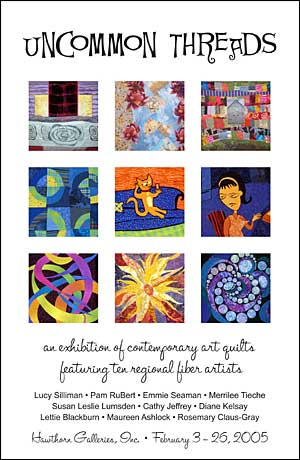 Of course I expected Lucy to show up with a gazillion huge quilts, but even I had to ask her how she got them all in her car. Then there's Merrilee, who broke her leg very badly in November. She had to learn to run the foot control on the sewing machine with her left foot, and still produced two new bumble bees and one new fish.
Lettie was the sleeper. I knew that as a watercolorist, she had all the right skills to make great quilts. But she showed up with the most gorgeous landscape quilts, I couldn't believe she had learned those skills and created several show-stoppers in one month.
It's so amazing this show is happening, considering we only walked into the gallery in December, yes armed with with a group portfolio, some sample quilts, and the promise of a newspaper article, but unrealistically asking for a show in February. Here's our classy card:
It's been a lifetime dream of mine to have a gallery show. There's no way I could do this alone, and it's so much more fun as a group. And at yesterday's meeting the arts writer showed up to look at all the work and interview some of the artists, so our feature newspaper article is on track too. As my nephew would say "Awes!"
I can't wait to get some photos of the show here and on my website, so stay tuned. Until then, there's the vital data:
Uncommon Threads: An Exhibition of Contemporary Art Quilts
featuring ten regional fiber artists: Lucy Silliman, Pam RuBert, Emmie Seaman, Merrilee Tieche, Susan Leslie Lumsden, Cathy Jeffrey, Diane Kelsay, Lettie Blackburn, Maureen Ashlock, Rosemary Claus-Gray.
Hawthorne Galleries
214 East Walnut, Springfield, MO 65806
February 3-26, Tues.-Thurs. 10 a.m.-6 p.m., Fri. & Sat. 10 a.m.-9 p.m.
Artists' reception and demonstrations Feb. 3, 5-8 p.m.
First Friday Art Walk, Feb. 4, 7-10 p.m.