I promised to tell my big news a couple weeks ago, and time has really gotten away from me. But it's official as my handy ept test verifies.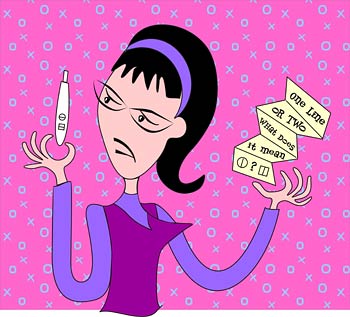 Actually I used three tests because I couldn't believe it. The newer tests have changed so that the two lines cross. One line is negative, a full cross is positive–very clear. But I happened to have an older box of tests laying around, and amazingly enough the diagram on the instructions was printed opposite (or upside down) from how the stick actually worked. Can you believe that?! But I've also been to the doctor since then, so it's been confirmed.
Since I've had three miscarriages in the last four years, I'm tried different approaches to telling/not-telling people what's going on with my pregnancies. Last time I hid it for a long time, and then when things went wrong, I didn't talk to anyone about it. That was definitely not good for me.
So this time I'm just letting people know and taking it day by day. One thing I know for sure is I can't stop making art. When I do that, I really go to pieces.
I've started these drawings and will begin a new quilt this week. A first I thought about doing a simple one. To be able to cut PaMdora's face out of fabric, it must be at least 10 inches long. That would make the top design about 21″ x 24″. I printed it out, but when I took the pattern to my studio, the scale didn't seem right compared to my other work.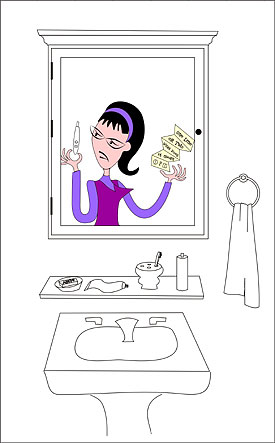 Since I work on computer, I can drop a character into a new drawing. So I tried that next. For some reason I like the idea of putting a sink in a quilt. But PaMdora looks too small here, and I don't like the front-on view. Too static. And that mirror would be no fun to make.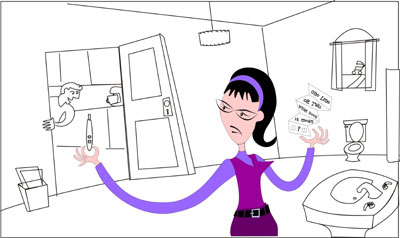 So I went back to a bigger horizontal format — this would be about 70″ x 42″. It's a good size for me because I can put lots of interesting things in the background and still lay the pattern on my design table. When I'm drawing, I try to think about how I'm going to construct all the objects and like to imagine some little embellishments. I'm also thinking about how to quilt it with little x's and o's. The next step will be to decide on a color pallete and start pulling fabric.
But I'm wondering if I should do the top one also. It looks kind of fun and easy, and I like her rubber-band arm…