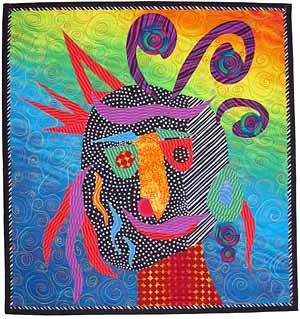 We had a great meeting last Thursday of our art quilt group, Uncommon Threads. Everyone seems to have been busy, both getting work done, getting into shows or getting commissions.
Above is Lucy Silliman's piece that she did in a Yvonne Porcella workshop. We all loved the bright colors and Lucy's great quilting with the rainbow thread. The stripped edge is a fused border layered under her binding. Lucy also has a quilt in the June 3rd opening of the Kansas Art Quilters "Layers and Upon Reflection."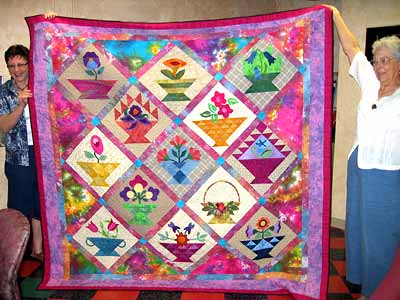 This is Emmie Seaman's quilt (Emmie is on the right) that was just published on the cover of the Kansas City Star magazine for Block of the Month. I think she mumbled something about running out of white for the background!
Emmie also has a quilt in the Kansas Art Quilters "Midpoint" that opens June 2nd, and so does Susan Leslie Lumsden who is in the group but not at this meeting. But we know from her emails that she's been traveling to lots of national art fairs to sell her quilts and she's won several Juror's Awards.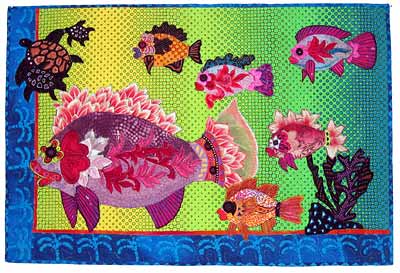 Merrilee Tieche just finished this quilt which is a commission for St. John's Hospitals. Rhinestones simulate little air bubbles coming out of the fishes mouths. Merrilee calls it "He's Got His Mother's Eyes." She's got a great sense of humor that shows in her art.
Sadly, I had my "Robbery at the Lingerie Boutique" only half assembled for the meeting, but the group gave me such a vote of confidence that I could finish it in time to submit to the Viking competition, that I did indeed finish it the next day.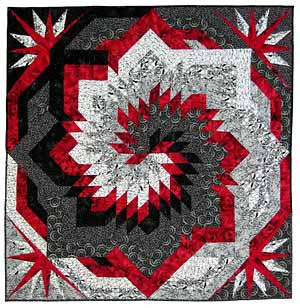 Just when I thought we'd tapped out all the talent in the area (this isn't Chicago you know), some new people showed up and wowed us with their stuff. Above is Arleta Johnson's quilt that's an innovation of a traditional quilt pattern that I don't know the name of.
Arleta said she had recently moved to the area and was looking for friends. We gladly volunteered. This quilt is a 9-11 quilt called "Aftermath: Fire, Smoke, and Ashes." But the big surprise is the back….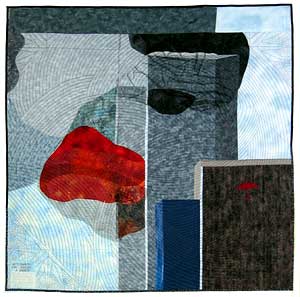 Can you believe this is the back? Arleta seems to do this with all her quilts, says so when she quilts it, she actually gets two done at one time?????!!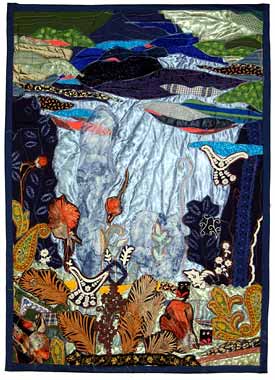 Another newcomer, Dianna Callahan teaches fiber art at a college in a city near here. She's active in our local Visual Artists Alliance, but I think was seeking more connection with other fiber artists. This piece is called "Fantasy" and used a wide variety of fabrics and found ornamentation from vintage clothing.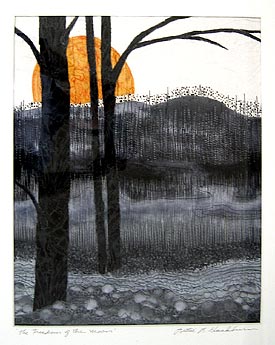 Unfortunately Lettie Blackburn was too late to make the meeting, but she brought her newest piece to show so I got a photo of it. I forgot the title, but on the back is the Robert Frost poem that inspired it. I cropped the photo so you could see more of the image, but the quilt is nicely framed with a white mat and sleek black frame. This quilt is in a local show at the Performing Arts Center, and Lettie also recently won a Juror's Choice award at another show she is currently in.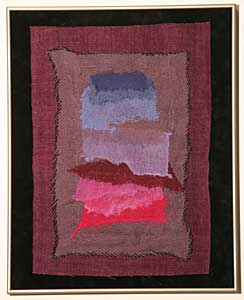 Another member who couldn't make Thursday's meeting is Rosemary Claus-Gray. Above is one of her framed pieces and she is currently having a solo show called in Cape Girardeau, MO. You can see some photos of the exhibit here and here.
The group is all a-buzz because Tuesday we will be treated to two programs by Laura Wasilowski and on Wednesday, Laura will be giving her Woodcut Quilts workshop. Then Merrilee, Kathy Kansier (who will be the professional appraiser at the Studio Art Quilt Associates Conference), and I will be traveling on Thursday to Quilt National and the SAQA conference.
And the next week is the Surface Design Association conference in Kansas City which is only about three hours from here, some of us hope to make it to the shows there too. Stay tuned!