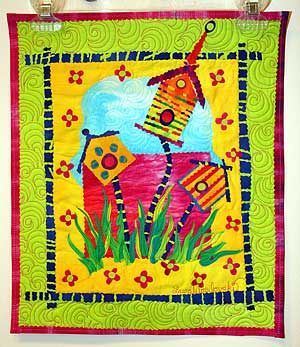 Yesterday we had a great workshop by Laura Wasiloski. If you don't know Laura, she makes fun colorful quilts like this one with crazy little birdhouses. She gives very funny lectures about her quilt-making and sings her own hilarious songs about irons, scissors, quilts, and anything else you can think of. We were treated to TWO different lectures on Tuesday, and I still can't get those songs out of my brain. I can't sing them as good as Laura though.
The workshop however went seriously awry, but not due to anything Laura did. Apparently it started out smoothly, but I wasn't there for the beginning. I had a hair emergency.Actually, it wasn't a serious one, and to be truthful it wasn't even an emergency, but that's what I told the class so as not to seem impolite when I walked in late. It's just that after my usual morning yoga and breakfast, I had a sudden urge to go south and listen to rodeo stories by my hair stylist.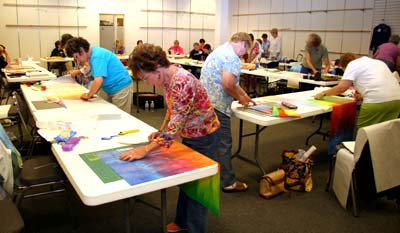 After my hair emergency was over, I walked into class and it ran smoothly for about an hour. People were energentically fusing their rainbow hand-dyed fabric kits by Laura. And then it happened.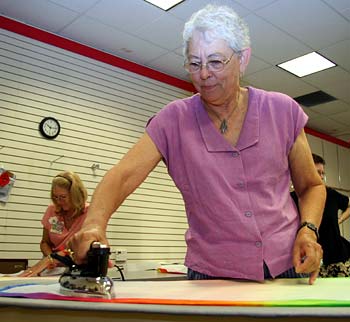 First I should probably explain what fusing is for those who don't know. Fusing is ironing on a dry paper-backed glue to the back of fabric. After it's ironed on, the release paper is peeled off, and you can then stick the fabric to other fabric by ironing it together. This class Laura was teaching uses lots of fusing which mean lots of ironing. In the photo above, Emmie is demonstrating the proper fusing technique. Notice the firm grip she has on the iron. Emmie's a pro.
Anyway, so then it happened. All the lights went out. Not from too many irons on the system, but from a power pole that got knocked down in an accident. The whole block had no power, including our Guild workshop room at a spooky place called North Town Mall.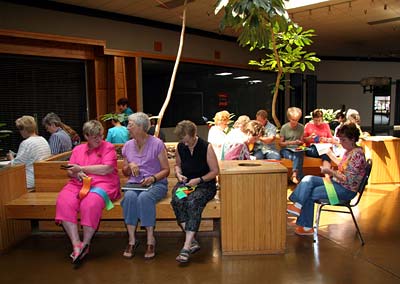 Although Laura assured us that in some primitive cultures, people used to fuse fabric with hot bricks, we had no bricks and no hot coals to warm them. So instead of sitting in the dark, we all went out into the atrium and practiced free form fabric cutting under a skylight. Then we went to lunch.
After a long lunch of Hibachi Chicken and sushi at one of my favorite places called Little Tokyo, we returned to the North Town Mall to find that our classroom looked like this.

So it was back out to the sky-lit atrium. This time Laura entertained us with more songs and a special display of art quilts on the vacant lunch koisk outside our classroom.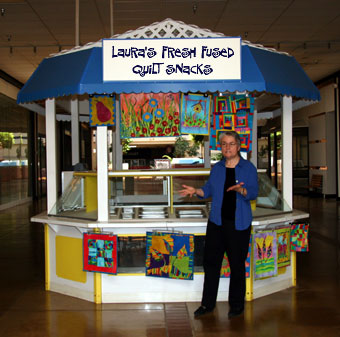 When I saw the vacant sign about Laura's head I couldn't resist embellishing the photo…"Laura's Fresh Fused Quilt Snacks." Get 'em While They're Hot!
Finally the power did come back on, and we all worked furiously to get our "Woodcut Quilts" done. I didn't have time between making mine and buying up a bunch of Laura's wonderful hand-dyed fabrics and threads to take photos of everyone's work, but some of the more entertaining concepts were Merrilee's "I Artichoke The Person Who's Talking Too Much," and Maureen's "My Garden Gone to Pot." Then there was Lucy's shoe bottoms…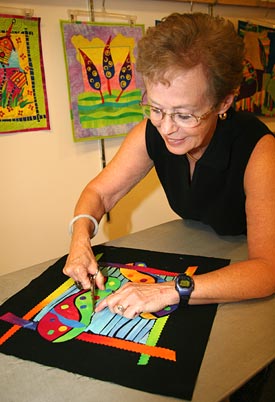 I did a small quilt top about my Kokeshi dolls. Kokeshi are little wooden Japanese dolls that I collect. Actually I only have seven, but I'd like to get some more.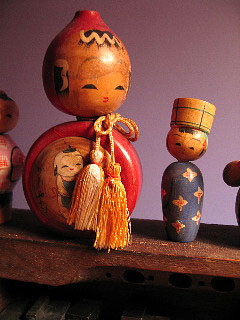 I've been taking photos of them and would like to do a series of little quilts about them, because to tell you the truth, I'm sick of cutting out PaMdoras. I need to add a few more flowers to the doll's kimonos, but it's a good start and now I'm off to Quilt National for the weekend!