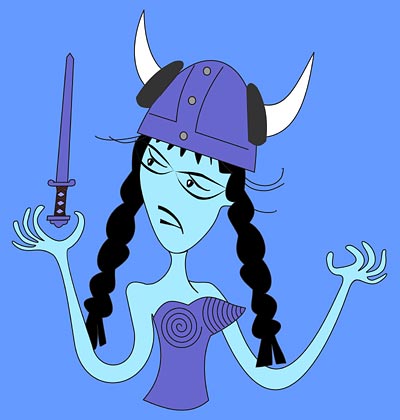 Well, good news has arrived. PaMdora is off to join the Vikings in her new role in the Husqvarna Viking Exhibit that will travel to Houston, Chicago, and some place in France. I'm not even sure if she knows how to use a sword or sing opera.
Just kidding, opera has nothing to do with the Husqvarna Exhibit. In truth, she will be hanging on a wall somewhere in a quilt called The Robbery in the Lingerie Boutique that you may have seen me working on earlier this year. After I sent in my entry, I started to think that there was no way it would be accepted. I thought maybe they were only looking for pretty or beautiful quilts, but I guess those Vikings have a sense of humor too!
I can't post a photo of the finished quilt until the exhibit opens in November, but I must thank you for all your comments and puns that helped inspire me in writing my 75 word artist's statement I had to submit with the entry. It actually became a mini news release that fit the action-packed story in the quilt very well. So thanks again.
On another note, don't you think PaMdora looks good in costume? It's always a challenge to work with her peculiar anatomy, but maybe I should make up some more costumes for her. Reminds me of this artist I saw on Myra's blog who has made a paper doll game that is very fun. I wish I knew how to make an internet game like that for you, but I don't so I may have to make one in a quilt version.