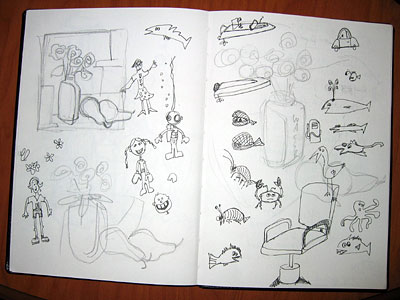 This is what my sketchbooks usually look like, full of little critters. I'm running out of room in this one, so have been drawing in pen on top of some old yucky pencil sketches. These are ideas for the Fishing for Trouble quilt. You can click on the photo for a closer look at their funny faces.
There's also a girl boxer, because I just recently saw Million Dollar Baby, no offense to Hilary Swank. And a barber chair because this was drawn Friday morning, waiting in the salon for some fancy Italian hair color to work its magic so that I would look superfantastic for the Friday night opening of Fiber Focus 2005 in downtown St. Louis where my Yoga quilt is part of Innovations in Textiles 6. (actually I ended up looking just the same as always.)
Here's some crab drawings for another yoga quilt. I need to get on the internet and find out what crabs really look like and if they have six legs or eight.
Update: Yikes, just looked them up, and they can be kind of scary, not the tasty little morsels I was thinking of. And they have eight legs plus the big claws!