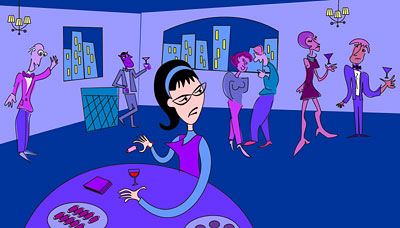 Ever go to a fancy cocktail party and not know who to talk to? Needless to say the atmosphere can feel a little chilly, if not downright COLD. So here's my drawing this week.
I was at such a party last night – a ritzy affair on the ninth floor of the New York City Athletic Club overlooking Central Park. It was an awards banquet to honor the lifetime achievements of sculptor Magdalena Abakanowicz, and I was feeling a little shabby wearing boots rather than the very pointy high heels that I saw all the other women wearing.
Standing around, nursing a glass of wine, trying to catch the eye of a couple of people I sort of know who seemed to be ignoring me completely. So I finally I look over to the side of the room, and recognize someone, so I go over and introduce myself…to ROBIN WILLIAMS!
Not that I said anything profound, but he shook my hand and I asked him about a triathlon I heard he was in and tell him that I do humorous art quilts and he said "cool." How amazing the evening felt after that, and I'm still on CLOUD NINE!