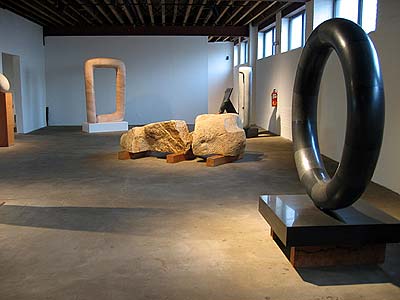 On Friday my friend True and I went to Long Island to see the Noguchi museum which had been closed for a long time to remodel. Once there it was worth the long trek.
The museum used to be a factory that Noguchi made his studio when he lived in Manhattan, and the industrial space has been subtly converted into some profound spaces to view his stone sculptures.
There's also a new second floor space for special exhibits, and we saw the Imagery of Chess Revisited, a pretty cool re-creation of a show where Calder, Noguchi, Man Ray, John Cage, and many other avant garde people created special works for the Julian Levy Gallery in 1944.
It was so retro, I loved it. Especially clever was a chess set where the chess pieces were all sorts of different wine and liquour glasses filled with wine, and the two sides were RED versus WHITE.
I came back all fired up with ideas for cleaning up our industrial warehouse and getting it looking better. We've always had the idea of creating a sculpture garden in the vacant lot next to our building (sigh, if we only had a jillion years and unlimited energy to do everything!)