On Saturday we went to Chelsea, and the New Museum of Contemporary Art had a exhibition of Canadian artist Brian Jungen. He makes pretty amazing skeletons of dinosaurs out of plastic chairs and aboriginal masks from Nike shoes.
Also in the Altoids Curiously Strong Collection, I loved a series of drawings by San Antonio artist Katie Pell called "Mick" (as in Mick Jagger). It was the funniest thing I've seen in such a long time. I've got try to email her when I get home.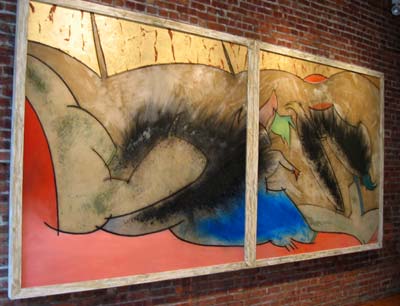 In the Chelsea Art Museum is right above the New Museum with an exhibit of Cristobal Gabarron, a Spanish artist who has done lots of work for the UN and the Atlantic Olymics.
His work had so many elements that appeal to me — vaguely figurature compositions, strong black lines, incredibly yummy textures and patterns on the surfaces of his sculpture and painting — that I fell in love with his stuff.