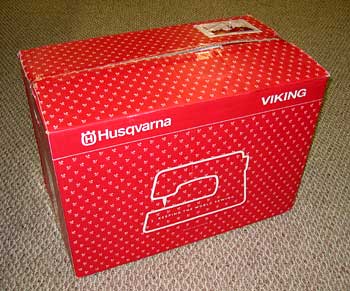 Actually the Husqvarna machine that I won arrived at the dealer's shop last week just before Thanksgiving. After a short demo, I found it was very nice and had a few buttons that I would love on my current machine. But it also duplicated many things that I don't ever use, so I asked to trade it for the Viking Mega Quilter — bigger, faster, but straight stitch only.
I had to wait yet another week, but the mega quilter finally arrived yesterday, and I put it to work immediately to quilt the background on my current project. It's a monster compared to what I'm used to — huge, heavy, and sews like crazy. I was estimating that the green background would take about four hours, but the mega quilter did it in little over an hour. Can't wait to try some more! And for the quilting frame to come in — maybe not until January 🙁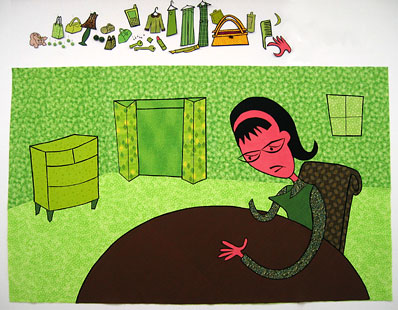 In the meantime, this is a new record. I started this drawing for Illustration Friday on Friday night and finished the entire quilt before the next Friday theme was posted! I'll put it on my website when I get better photos (does anyone else have trouble photographing lime greens?)
This is just a photo of the background with all the little stuff out of the way. If I had been thinking better, I wouldn't have fused the long arm down before I started quilting the table.