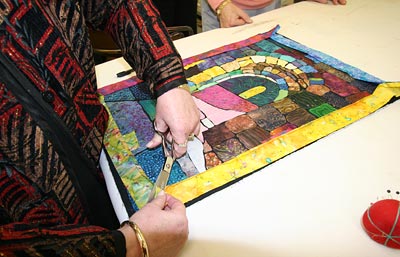 Okay, say that five times really fast…ha ha! I'm not sure that's really the name, but Kathy Kansier gave a little demo at the end of the Uncommon Threads meeting. She taught us to make a mitered facing…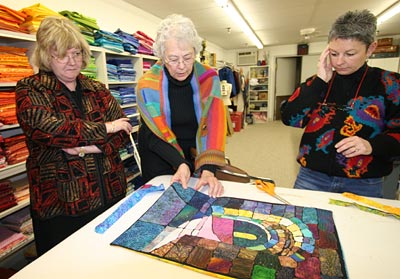 to sew around the edges of an art quilt, then flip over and tack down on the back to form a clean edge. We're practicing on Merrilee Tieche's quilt she made using an Esterita Austin pattern. Why does everyone look so worried? I really think it turned out all right.
This finishing technique looks much nicer than the one I did to my Metropolis quilt. Oh, and Merrilee, I forgot to take a photo of your wonderful 3-d quilted pyramid with the mini-Buddha inside!