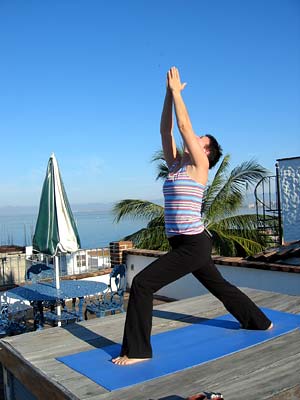 This is me doing my "Folded Umbrella" yoga pose. We're staying at a friend's house in the old historic part of Puerta Vallarta, and in the mornings I climb up a little spiral staircase to the rooftop and do my yoga watching the ocean, ships and birds sail by — it's like being on top of the world!
Puerta Vallarta is set against a mountain, so although it gets light early, the sun doesn't actually rise over the mountain until about 9 a.m. So I can sleep late and STILL do yoga to a rising sun. Does it get any better than this?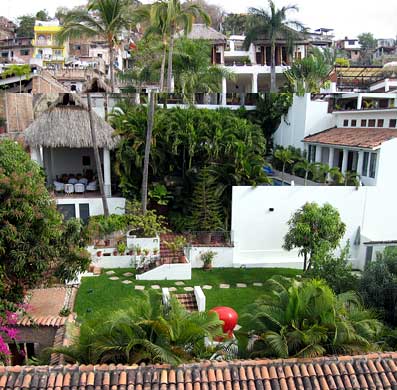 Here's our friend's house which is called Casa Mina. Three stories of common living spaces are open to the ocean (no need for doors, except for the bedrooms and that's only for privacy.) I've pasted two photos together so you can see the little sculpture garden below.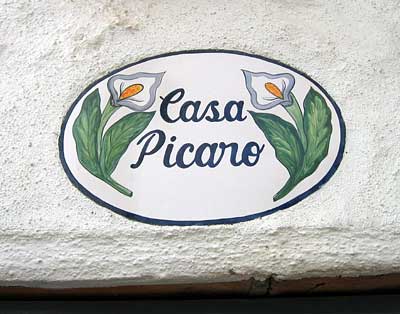 We're in the house across the street called Casa Picaro which means "The Rogue." It's all stucco and tile, and right next to a private gay (all male) hotel. I heard the guys over there swim in the nude, but I've been peeking over the wall and haven't seen anything yet.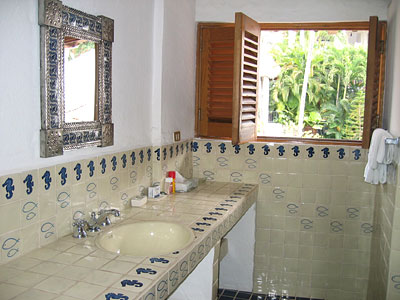 Here's our cute little bathroom. Notice, no glass in the window. Everything is open and breezy.
I have more photos to post, but that will have to come later. It's six o'clock now, and time to go across the street for cocktails and to watch the sun set.