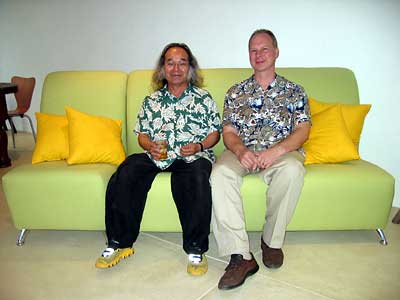 Russ and Jun Kaneko are discussing Hawaiian shirts. While Russ only has a few, Jun is rumored to have hundreds of them. Jun is a Japanese ceramic artist who is based in Omaha, Nebraska.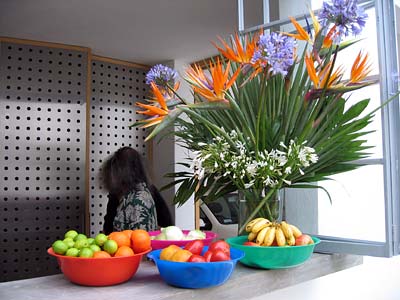 This building was once an Alcoholics Anonymous house. It's been bought by our friends as an investment. After some thought, they decided to invest in artists (yeah!) and asked Jun to design the remodel to make a studio and residence for visiting artists. It's ultra-modern — check out the kitchen cabinets, all cool perforated metal.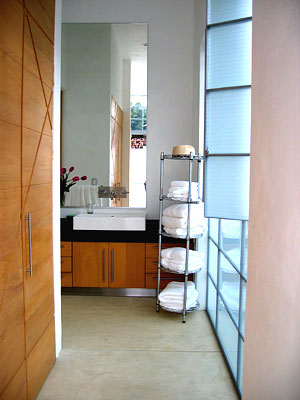 I always photo bathrooms, expecially when it's this nice.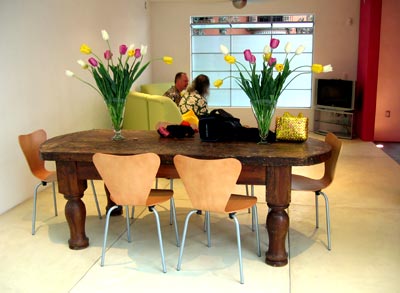 I've always liked modern furniture mixed with rustic stuff. Hey, there's my candy wrapper purse on the table. It was the hit fashion accessory of the party.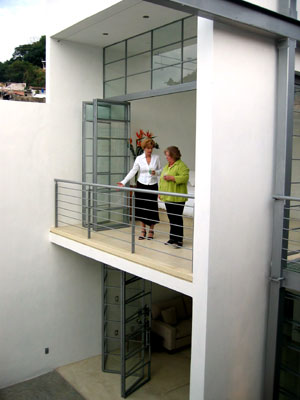 All the furnishing are easily portable, because different artists have different work flows. Both stories of the building opened towards a courtyard that would be good for doing sculpture or ceramics.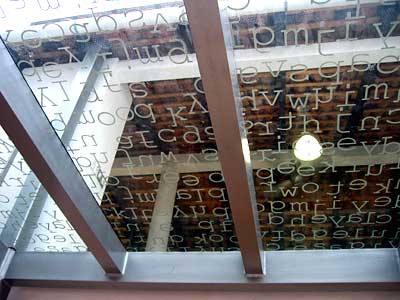 Most disconcerting to me were the second-story glass walkways. Covered with etched lettering, they were still clear enough to see through to the lower levels.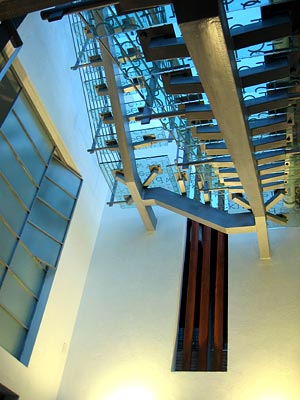 Especially when the stairs to the third floor roof were also glass. Yikes! but then it wasn't so scary after the second margarita.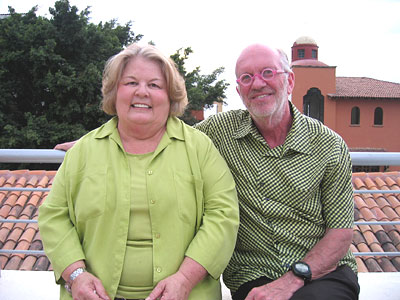 Here's Karen and Robert Duncan, the owners of the new studio up on the roof patio. Nice view up here. It would be a great place for yoga. I hope the Duncans are smiling because they just bought one of my quilts!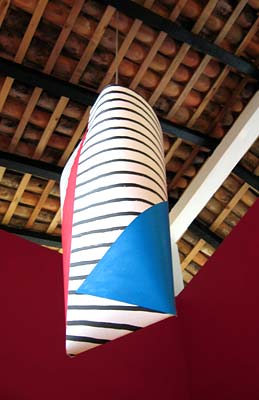 One of the light fixtures had not arrived yet, so Jun made this lamp out of paper and paint for the magenta-colored foyer.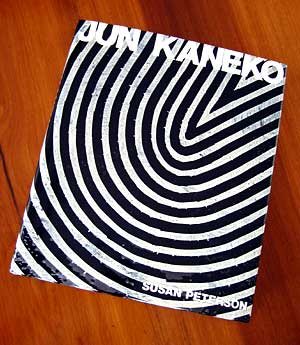 Jun and his wife Ree were so generous to host the party AND give us each this big fat book of Jun's work. Since I love pattern, I'm looking forward to studing all the photos inside.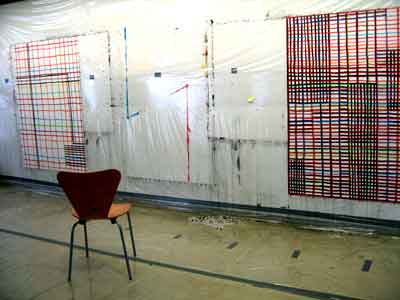 Jun is known for very large ceramic sculptures, but the artist's house doesn't have a kiln yet. For a month this winter, he's staying here in PV to do a series of drawings that he'll sell in galleries. You can read more about Jun here.