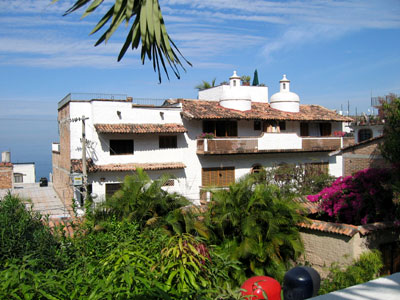 I don't want you to get the idea that everything is sleek and modern. This is our house on the left and the gay hotel on the right. They have balconies, but we get to climb on the roof to our own patio. You can just see the top of Jun Kaneko's sculpture in the garden below.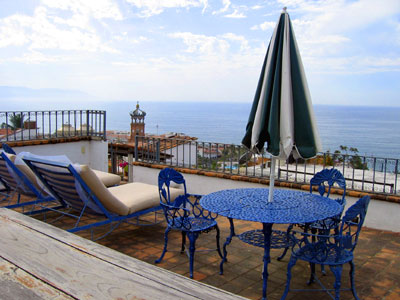 This is the roof patio where I do my yoga every morning. It's exhilerating because I feel like part of the sky. I know it looks peaceful, but it's also kind of crazy.
All the buildings are close together, and all the Mexican neighbors have roof gardens and open houses. So you hear everything — dogs barking, roosters crowing, telephones ringing, kids yelling, parties, and lots of music. Right now there's some really loud Mexican showtune music coming from the gay hotel.
Every night there have been different party noises in the street — drums, children dancing in cermonial costumes, and fireworks. After three nights in a row, we've decided it is some sort of neighborhood festival.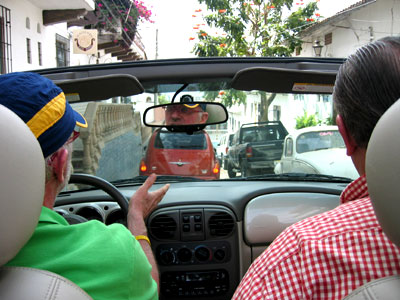 It's a long way down the mountain and there are dozens of secret stairways between houses to get down to where the tourists walk along the seashore. Sometimes the streets are so narrow, there's room for only one car. Yesterday we were in a line of cars being blocked by a pickup truck coming the other way who refused to back up.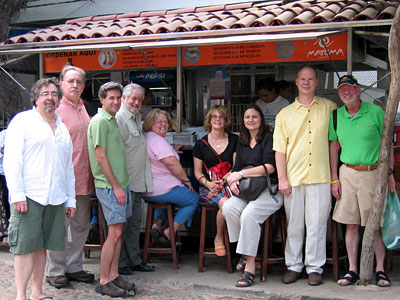 Here we are at the best fish taco stand in the city where they make fresh tortillas before your eyes. This is part of Russ's ISC board. They're artists, collectors, and staff here for meetings. Luckily I don't have to go to any meetings. Really I was planning on doing a lot of drawing, but so far all I've done is eat, drink, swim, shop, and wander around in the streets.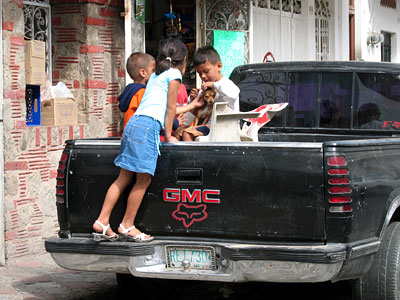 I saw these kids playing with their puppy yesterday.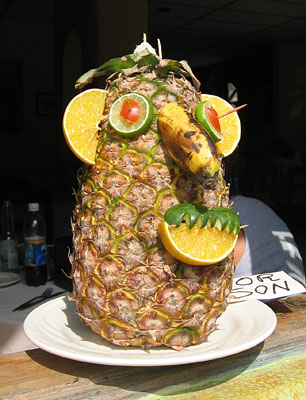 And this made me laugh, but it didn't make me want to go into the restaurant.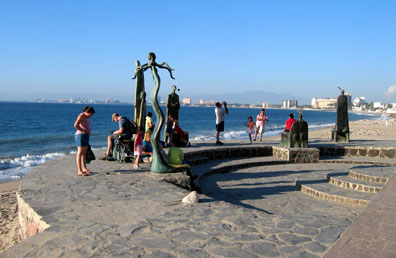 Down by the ocean there's an art walk with lots of whimsical sculptures by Mexican artists.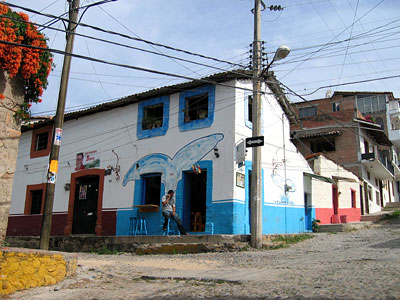 It's a long walk back up the mountain. Here's a little restaurant on the way. It doesn't look like much, but we've already had a lunch and dinner here. It's cute inside and the food is very good — Spanish tapas and fresh fish — yumm!