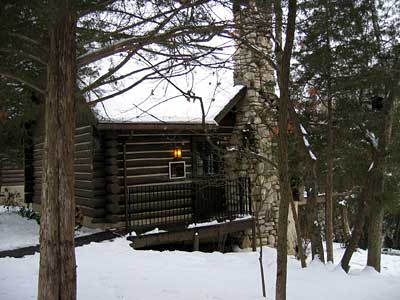 This is where we've been for the last two days — holed up in a little cabin in the woods. So nice that it snowed for our adventure, the only snow we've had this year! Made the whole thing more romantic.
Russ and I always take a little retreat early each year to examine our lives and goals. The first day we start by reviewing the previous year accomplishments and financial stuff. The second day we look at our artistic dreams and commitments, also personal and family trips we want to take. This year I typed up a calendar of important dates – it may be one of our busiest years in a while.
We've been doing this retreat every year since the early 90's, and it's taught me a lot about the difference between important and urgent things. Every day we are all pressed to respond to urgent things, but sometimes they are not the important things. Important things usually don't knock at the door or come in your email box. They are things that you choose to define yourself and are your compass in life. And sometimes it's good to check that compass, especially in the partnership of marriage.