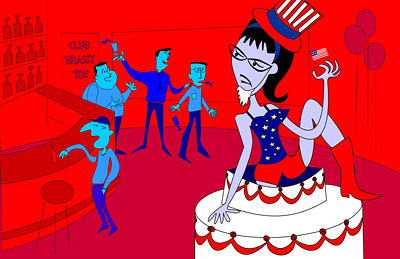 Here's my drawing for Illustration Friday and Yankee Doodle Dandy — that's the song. You may remember I started this drawing for a quilt long ago, around the fourth of July, but I never got around to explaining it.
One summer during college I got a job delivering singing telegrams. I usually wore a tuxedo jacket, shorts and tights and delivered a balloon bouquet as I sang birthday, anniversary and happy secretary's day lyrics that my boss wrote for each occasion. Sometimes I even got to go into the state legislature when someone wanted to embarrass some elected officials. But never anything risque – just silly.
The craziest assignment I ever had was to sing "Oh, he's a yankee doodle dandy…" to an Iranian man in a red-neck bar called Club Brassy Toe in Brazito, Missouri, population 68. He had just gotten his U.S. citizenship and his friends hired me to jump out of a red-white-and-blue cardboard cake dressed like Uncle Sam, waving a flag. I can barely remember what the bar looked like though, I guess because I spent most of my time in the cake.