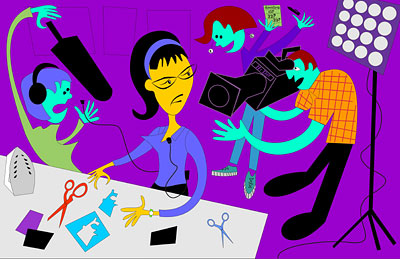 It was a gray rainy Saturday when the PBS crew from Wisconsin came to interview me and videotape my studio for an art quilt documentary. However, in my windowless studio, it's always colorful and bright! Since I forgot to take photos, I drew this illustration to show you what the day was like.
Very exciting, but in spite of my pre-event jitters, it went pretty well. No trees or animals were harmed. Nothing blew up or caught on fire. I actually made something for the camera, and it turned out okay — this little guy: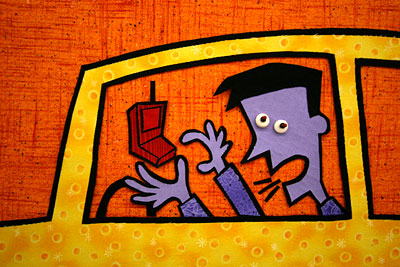 I would have been more nervous, had I known the truth. We were taping in HDTV! So shows every whisker and every pore. But it was only afterwards that I learned this, and Frank the camera man knew how to pacify a proud parent, he said, "But your quilts will look wonderful!"
For the documentary, they have been interviewing quilt artists in the Chicago area (Melody and others) and will be doing more taping at the Art Quilts at the Sedgwick show in April. I really enjoyed working with everyone. They were very laid-back and made me comfortable throughout the day. The only real discomfort was that I couldn't work in the studio without music playing, and for me that's pretty hard to endure.
I can't even remember what Laurie (the producer) asked me during my sit-down interview, but the next day I woke up thinking about all the things I SHOULD have said. The documentary will be broadcast on PBS stations sometime in March 2007, so I have lots of time to forget the things I said that I SHOULDN'T have said.
Being a visual person, I wish I could see all the extras that Frank taped – like his wide pans of my studio and my fabric shelves. Watching him walk around the studio with his camera, I was glad I had cleaned up my inspiration boards.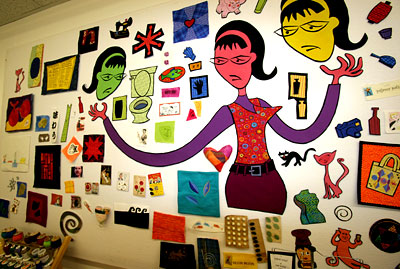 I have one inspiration board hanging in my quilting area and another in my dye/embellishment, and these boards are the same that I use for my design wall. In answer to Gerrie's question, these are made of 4'x8′ sheets of blue insulation board that I got at Lowe's. (one side painted white so the blue and the writing doesn't show)
We framed them with wood strips and wrapped them in flannel, then stapled the flannel to the back of the wood frame. (Also put some wood cross members in back for a little more stability.) I like them because they are big, but light, so I can easily carry them to another room for our Uncommon Threads meetings. Because the flannel is tacky, fabric sticks to it, or if I'm putting up lots of fabric, I can pin right into the boards.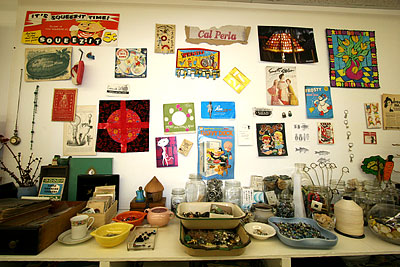 I actually worked at cleaning and organizing my studio for over a month, because of the documentary and to make room for my new Inspira quilting frame. You can see by the photos that I love to collect all sort of stuff – especially magazines and graphics from the 50's and 60's, so my studio does tend to get out of control sometimes.
But now that it's really clean, I'll try to take some more photos. Last year when I first set up my website, I spent a lot of time cleaning and taking photos. But in the end, I guess it was worth it – the PBS producer contacted me after seeing my studio on my website.
The other thing that keeps popping into my head is a quote I read in Fiber Arts magazine last year (sorry, I can't remember the artist though). She was being interviewed about creativity in mid-life, and she said she had been trying to justify keeping the lease on a large studio that was rather expensive. She said something like "never under-estimate the power that seeing your own work displayed on the walls of a studio has on your development as an artist." I believe this is true – I don't think I would be where I am now without the studio that I am so lucky to have.