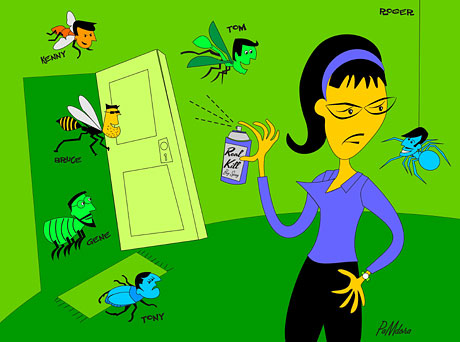 I still haven't caught up on everything since the tv taping. But I couldn't resist doing this drawing for Illustration Friday called "Those Pesky Men". You can click on it for a bigger version.
In case you're wondering, it's not inspired by any kind of emotional stress, and I'm not a man-hater. This just popped in my head once when I saw an old advertisement from Real Kill Bug Spray. I went to an auction once and hit the jackpot. I bought two big boxes of mystery papers for around $15 and when I got them home, found what looked to the old files of a Home Economics teacher. It looked like she had retired in in the 50's or early 60's, boxed everything up and never looked at it again.
There were all kinds of posters, brochures and booklets that companies had sent her about things like chocolate, four-square meals, polishing silverware, how to properly freeze food, and how to kill bugs in your house. They are really fun to read and have lots of awesome graphics, so good I'm almost afraid to post a scan of the bug spray lady because it's better than my drawing — but I figure you'll enjoy it, so here it is.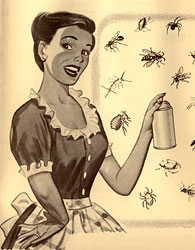 In my drawing, I used names of old boyfriends and one old enemy just for fun. Roger cracks me up because you usually hear about spider-women, not men. What kind of insects would the men (or women) in your life be?