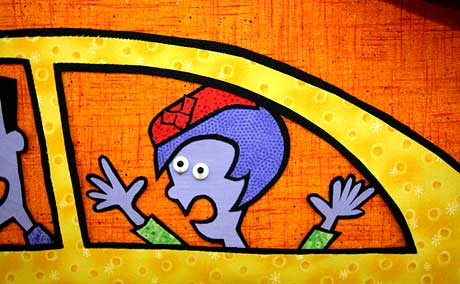 Aaaargh! I was thinking that I should have said during my interview that my favorite part of the process was cutting out characters and seeing them come alive. But aarrrgh! That's also the most frustrating part — when it doesn't go right. Today I played the fabric shuffle, swapping out orange and red fabrics to make background buildings and nothing seemed to work.
The Robert Genn letter this week was about "Economy of Means." At first I thought it didn't apply because it was about painting, then I realized it's exactly what I'm trying for. Trying to work fast and efficiently and not make time-consuming mistakes. The second cartoon quilt I did took six months because I kept cutting the same things over and over.
Then I became more efficient, but sometimes it's still a struggle. When to stop shuffling fabric and commit? I guess I have to rely on intuition mostly. And then if it still doesn't work out, it's time to go shopping, ha! Which I did, inspite of tornado sirens, and found some more orangey-reds, so maybe tomorrow will be better.
So you don't have to share in my frustration, here's a couple of photos from Friday, when cutting went very well and fast. I'm loving the crazy fabrics I found for PaMdora's car and purse.