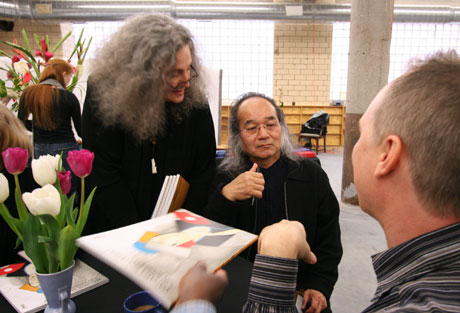 We met Jun Kaneko in January (read my post here) and so have only recently become aware what an inspiring artist this man is, and yet so quiet and good-humored. His wife Ree started The Bemis Center for Contemporary Art and now manages Jun's career; she's a fountain of enthusiasm.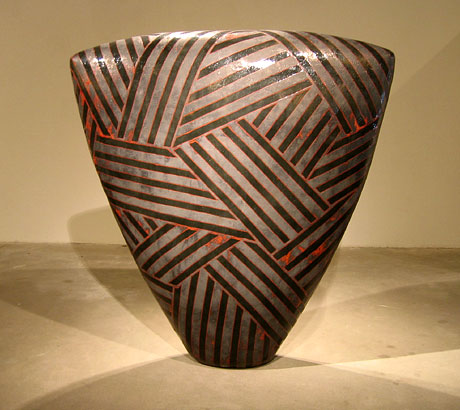 Kaneko came to the United States from Japan as a teenager, knowing no English, to study painting and now has work in collections and public installations all over the world.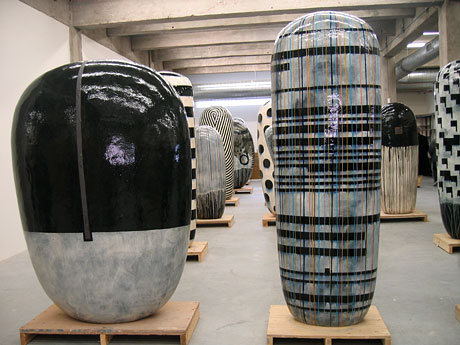 With an incredible work ethic — room after room in his huge studio are over-flowing with work in various stages of completion, the finished pieces are lined up with little tags naming the gallery, museum, or collector for which they are intended. These large works are made of clay and most are taller than me. They can take over two years to fully dry before they can be fired. Named by Kanedo "dangos" (which means dumpling in Japanese), they look yummy, but just one could give you a stomach ache since some weigh over 2 tons!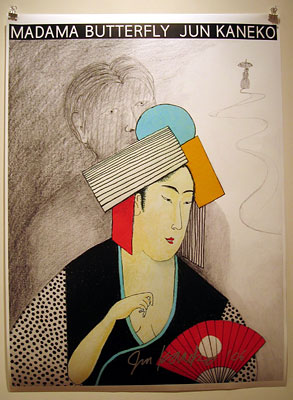 Jun also works in painting, drawing, glass, metal, enamel, and now opera. The opera was gorgeous, the costumes were uniquely Kaneko with brightly colored fabrics, many of them silk-screened at the Fabric Workshop in Philadelphia with Kaneko's hand-painted polka-dots. All the props such as umbrellas and rickshaw were Kaneko sculpture, and the backdrops were huge moving video panels on which were projected animated paintings Kaneko paintings – Living Paintings I called them because they were constantly and subtly changing along with the story and music of the opera. Someday you may have an opportunity to see this as the set and costumes will travel to other opera companies over the next 15 years.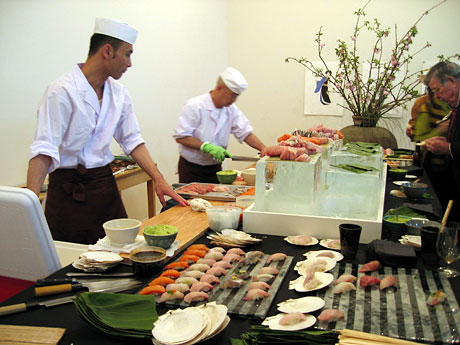 The night before the premiere, the Kaneko's hosted a party with sushi created by Jun's chef friend a chef from LA who created 2000 pieces of sushi served on Kaneko platters surrounded by Kaneko paintings. The day after there was a brunch and tour of a new museum for creativity that the Kanekos are building inside a historic building across from the Bemis in downtown Omaha.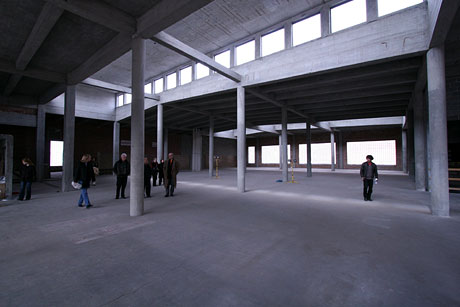 Probably what made the weekend most surreal was running into some friends from WAY back. I met a friend from my high school who is now a gallery owner in Phoenix representing Kaneko, can you believe it? (I'm not mentioning names to keep him under the Google radar, but here's the art gallery.) No way would I have thought ANYONE who came from my little hometown would be a dealer of contemporary sculpture! And to top that, Russ ran into his roommate from the Kansas City Art Institute who he hasn't seen for eighteen years and who now owns a gallery in Aspen. What a crazy small world it is!
I've had a hard time editing down my photos from the trip, but have to end on this miscellaneous note. Ree has the best vintage dish collection I have ever seen (this is just a small part.) And she uses it all for the parties, which makes them even better. What an inspiration, I'd better hit the flea markets!