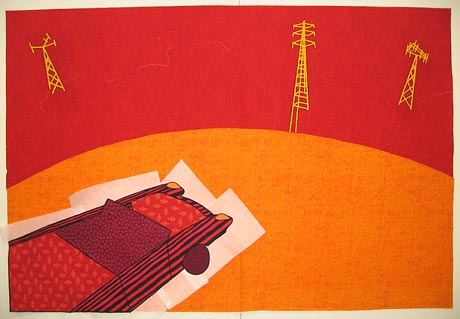 All week I've been trying to get this quilt done for our museum show next week. Can you believe I even went right to the studio from the airport and started working? The background is ready to quilt, so I've taken off all the little stuff. The car was all in pieces pinned to the board, and since it's difficult to put together, I slipped release paper under it and fused it in place.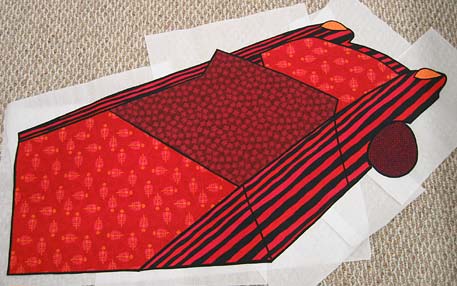 Taking the car off in one piece got me all excited about the idea of making a irregular shaped quilt. It would be nice all on it's own, wouldn't it?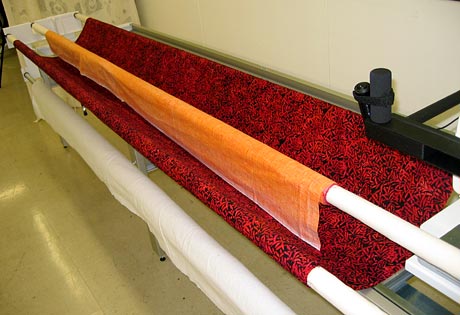 Seems like it took forever to load all the parts onto my new frame, and I still didn't get it on straight. Or maybe the top isn't straight. Who decided to make this thing so big anyway?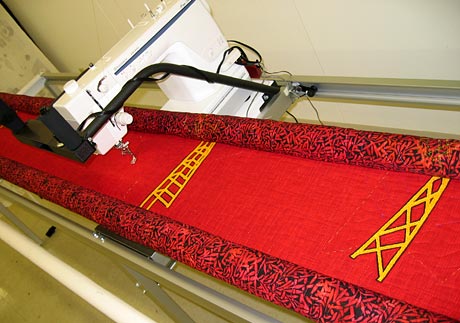 I don't know why I've been so intimidated about working on a frame. I had all sorts of plans on how to quilt this thing, in fact I laid bed at night thinking about how to do it. I also made a mini-quilt to test some ideas. However the elaborate plans I had including taking it off the frame and reloading it sideways to quilt the top resulted in some quilting that I eventually had to tear out.
But the Viking and the frame were good for the big areas, they went fast and easy. Now I'm planning on doing the sound waves with embroidery instead of with the machine. And here's a chance to see one of my backs. Since I don't use batiks very much on the front, I love to put beautiful batiks on the back. All the multicolored stitching across the batik backing makes for wonderful textures.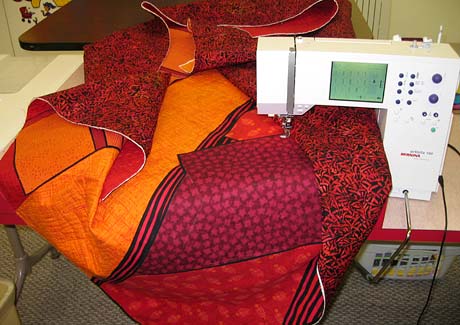 I can't do some the precision quilting I like on the frame though, so later returned to my Bernina. At first it seemed SO SLOW compared to the Viking, but it's much easier for me to be precise and do directional patterns.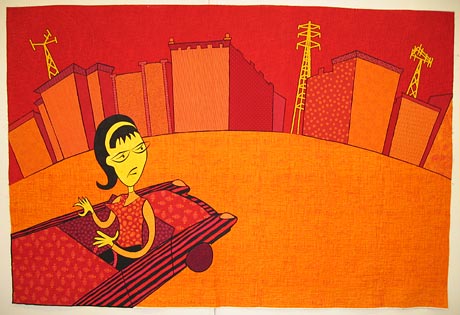 In retrospect, I probably should have left the buildings on and quilted them on the frame. Maybe next time I'll be better at this whole thing. Well, this much is done but there's a lot more to do, and I only have one day left!