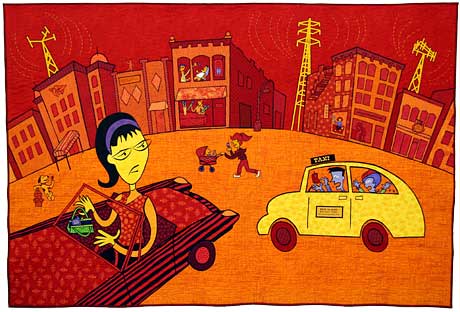 Finally I finished this quilt, or at least turned it in to the museum for the show, so I can't work on any more even though there are few details I could still add.
The worst was having to stay up all night Monday night. About 3 a.m. I started getting delirious, looking at this huge wadded up thing stuffed under the arm of my sewing machine and thinking, why exactly am I making a QUILT in the middle of the night?! Or maybe it was worse the next day when in a state of fatigue, I tripped and fell down the concrete stairs outside of my studio the next day. Luckily nothing was broken, including my laptop
The sad thing is I still didn't finish it, and Merrilee had to negotiate another day for me to work on it. But all's well that ends well, and the quilt is at the museum now and will be hung as part of our group show. And now that I've turned it over, I have a great sense of freedom! If you'd like to see a bigger photo (it's the biggest I've done — 57″ x 85″) and more close up details, check out my web site update here.