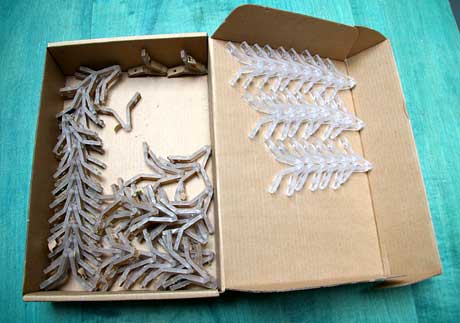 Today I thought of Liza Lou (she's an artist with a huge amount of patience that we're studying on the Ragged Cloth Cafe this month) as I peeled tiny bits of protective paper off tiny intricate parts that Russ has made for the neon sculptures. These brackets he's designed will be installed on the metal frames.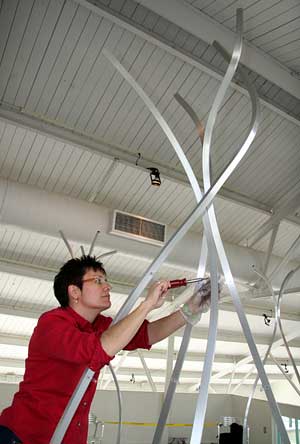 Here's me installing the brackets on the metal frames. I'm on a ladder (ha!) but it's a baby short one. Isn't the silver metal much prettier without its protective paper?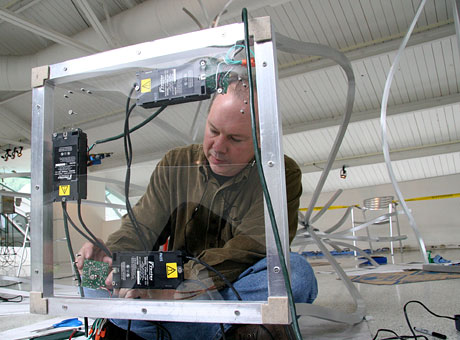 And Russ is working on some of his complex circuit board and electronics which will activate the neon.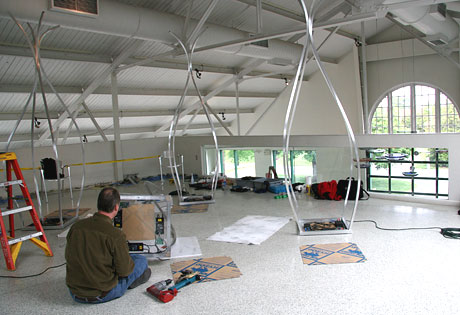 We're working in a beautiful loft area of the Domestic Arts exhibition building at Grounds for Sculpture. It's light and airy, and would be a wonderful studio (but then I always think that about lots of buildings I visit.)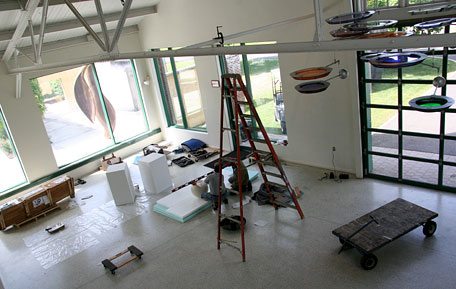 We can look over the half-wall, down to the first floor and watch artists and curators installing other kinetic sculptures for the MomentuM exhibition that opens Saturday. We also have great views of the sculpture garden surrounding the building and the friendly peacocks.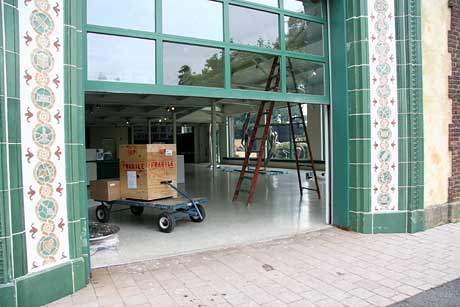 The birds know not to come inside, they just hang around this door and look inside. I love that old tile work on the outside of the building!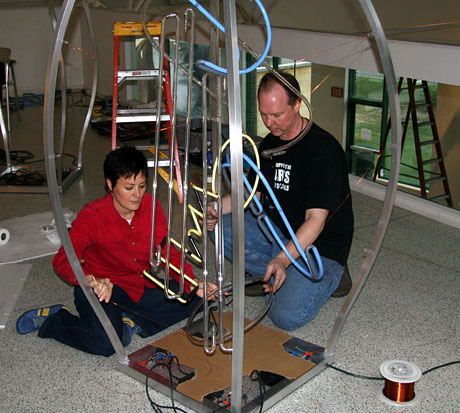 Here we are starting to put the neon inside the frames. We had around 50 pieces of different colored neon packed in the truck between the metal frames. That's why it was so hard to adjust our load and drive across county — because this is old vintage neon and very fragile. Can't wait to see it lit up! When we're done, the paper will come off the base, and you'll be able to see all Russ's cool gizmos in the base.
I got lots of good answers about my puzzler yesterday. Yes, the answer is this — he let air out of the tires, which lowered the truck and enabled us to drive out the door. Because we have a compressor to run air-tools at the studio, he was able to add air back to the tires right after he got outside the door. I never would have thought of this, so you are much smarter than me. I'm glad to have such clever readers!
I may be off-line for a while, because tonight we'll be moving to the artists' residency apartments for GFS. Hope not for too long!