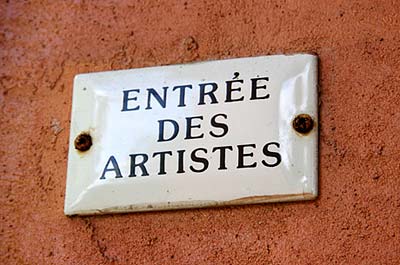 I'm starting to feel like we live here! We've been staying in the artists' apartment "Donatello's Digs," but this morning had to move over to "Michaelangelo's Make-Out Suite" because someone from the Rickey Foundation is arriving this evening. The George Rickey show is opening tomorrow in the other exhibition building.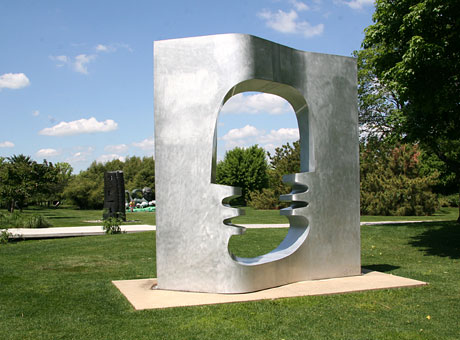 The weather today is gorgeous, so I snuck out for a walk on the grounds. There are 35 acres of gardens with 230 outdoor sculptures. The master gardeners have been hard at work all week making the grounds look good for the reception tomorrow. This is a striking sculpture by Strong-Cuervas. No wonder it appealed to me, when I looked her up on the web — found out she has a big head thing going on too!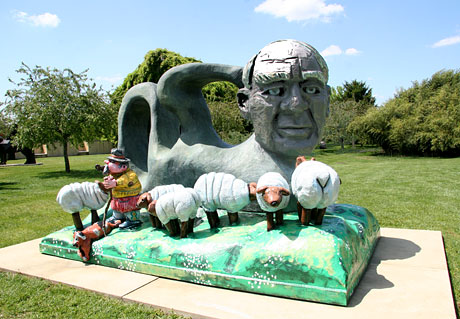 I can't resist Red Grooms — "Henry Moore in a Sheep Meadow" is hilarious. I also found a big book of his sculpture and interviews in the book store. I've been thinking alot about Grooms lately, so it will come in handy when I get home and get started on my 3D quilt. Oh my, I just noticed, it's another big head!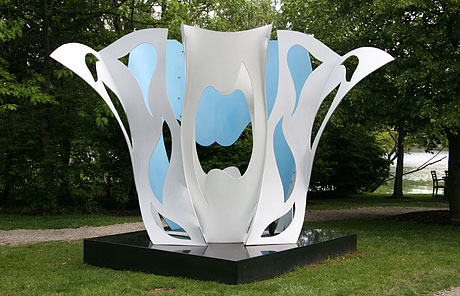 No big head here, but a lovely George Sugarman. I hope the weather is nice for the reception tomorrow — I hear they're expecting 600, by invitation only. But if it is cloudy and rainy, then Russ's sculpture will be that much brighter. So we can't lose!