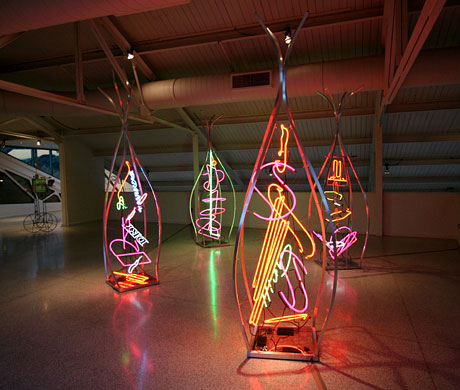 This interactive installation is called Positronic Neural Net by Russ RuBert. The frames are fabricated aluminum filled with fragments of found neon that are wired to motion sensors, so that different segments of neon light up in response to people walking around them.
We had about a minute to take photos with all the neon completely lit last night — after they are plugged in, the neon goes on all at once. Then the motions sensors warm up, and it's difficult to keep everything lit at once with only one person.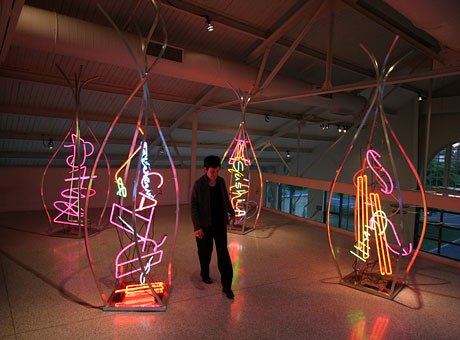 I tried running around, but couldn't run fast enough to keep everything lit.
The inspiration behind the work is how thoughts, ideas, memories, and dream images spark and fire in different parts of the brain. Sometimes it's obvious what's setting off the neon as in someone walking directly by. Other times it's mysterious – clouds move or something moves far across the room. The sensors took lots of work to adjust for these kind of effects, not to mention all the complicated electrical wiring.
I was a big help unloading, cleaning and setting up the parts, yes the grunt work! Neon is so fragile — but I didn't break a piece! But then Russ had to do all the tricky stuff alone, so I had lots of time to sit around the museum, drinking gallons of cappacino and surf on their high-speed internet. Now I'm just hanging around waiting for the reception to start. It's going to be fun to see how it works with lots of people.