We just wrapped up a month of discussions about the work of Liza Lou, bead and installation artist, on the Ragged Cloth Cafe. When I first signed onto RCC, I was skeptical, then involved, and then dropped out for a long while. Then when founder June Underwoood thought about pulling the plug, I volunteered along with twelve others to lead month-long discussions to keep the thing going.
Lou is most known for her entirely bead-encrusted environments KITCHEN and BACK YARD that each took years of her life to create. After a month, I'm not sure I'm any more closer to a better understanding of her art, maybe a first impression is okay. Maybe a month is too long to discuss one artist. But recently I read this quote from Jason Pollen in the SDA newsletter:
"I have noticed, as an academic, that more and more art students choose not to look at or research the work of other artists, not to read much in the way of fiction or non-fiction, not to be politically informed. There is a general lethargy and lack of interest in philosophy and religion (traditional and not), and relatively low fire in the furnace. This manifests itself in surprisingly low creative output.
I ask myself, why is this? And are we as mature artists and designers abandoning the search for the essence in favor of glitzy and glib solutions, sending the wrong message that digging is not enough of a reward? As we play with shape and color, texture and light, can we also be brave enough to reveal our vulnerability, provoke our poetic potential, and excavate the veins of precious ore just a little bit deeper down and a little harder to get to?"
So it's hard to know what to do. Ignore the world and make art. Or is it our awareness and interaction with the world that makes our art interesting and vital? I guess I'm asking myself this because I'm tired. I'm tired of working all the time — working a day job, working on art in the afternoons and evenings. Sometimes I think it would be nice to just go home, have a nice dinner, and drive out into the summer night to get an ice cream cone. But instead I'm always working.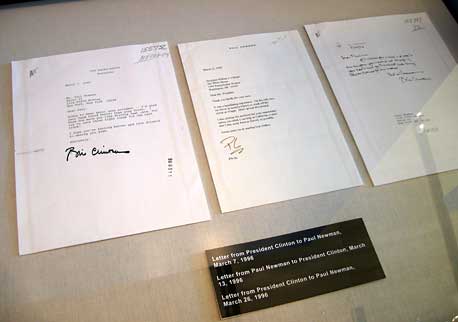 Last fall when we were in Little Rock, we visited the Clinton Library. Not something that I thought I'd enjoy – not because of politics, but presidential libraries just don't seem like my kind of thing. Actually it was very interesting. Most interesting to me were the correspondence of Bill and Hillary. How do people like presidents find the time?
You probably can't read the writing, but this is series of letters between Bill and Paul Newman. Granted Bill is always trying to raise money, but there were scads of hand-written letters between the Clinton and people of note. I remember that, and think, I gotta write more letters — but then I haven't caught up on all the correspondence from our last two trips!