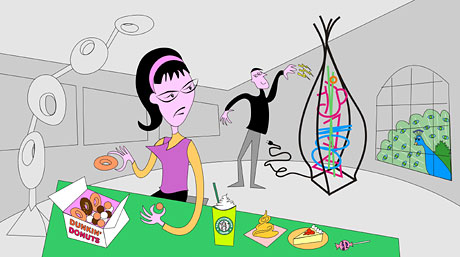 I know know why I had artist's block last week. The idea for this self-portrait was blocking everything else out, so I finally bowed to my compulsion to illustrate Russ's installation at Grounds for Sculpture last month. As he worked his gizmo magic on his neon-aluminum sculptures, my job was to remain on stand-by as my great talent for holding things in mid-air while he decides what to do is only rarely called upon. (Although I did actually install some screws.)

So in the meantime, I ate. Hence I have dubbed the place Pounds for Sculpture. The first day we were there, the curators fed us donut holes for breakfast. What is it about New Jersey? People there seem to love their Dunkin' Donuts. That same afternoon, the assistant for Lin Emery came to install a beautiful sculpture — the stainless steel modules twisted and turned in the slightest breeze. It was mesmerizing to watch, like watching waves on the ocean. Except I still can't help making some silly joke about contemporary sculpture and donuts.
There was a cafe downstairs… wonderful roasted eggplant sandwiches, pastries, cappuccino, meringues, and quiche made with brie — can you get any richer than that? There was also my daily run to Starbucks for Green Tea Frappuccinos, my latest craving. And of course, Blow Pops, but I'll save that story for another day. Looking through the window of the gallery is a peacock– there were several on the grounds — curious, pompous and watching with all their eyes.
So the drawing is of me, sitting on a little wooden box pulled up to a big green bench. When I wasn't eating, I was working on my laptop. We were there five long days, and the GFS curators laughingly began to call it my "office." But you can see it was really my dining room table!