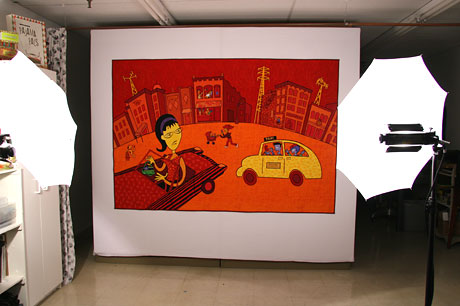 Monday the Uncommon Threads museum show came down, and I got this quilt back. I didn't have time to take a proper photo of it before the show. Since my work has been getting bigger, it's getting harder to photograph, and when Lisa Call posted photos of her portable photo wall, I started thinking about building a photo wall in my studio.
Before today, I had one of my design boards on a painting easel. It was sort of rickety, but worked for the smaller pieces. A quilt this big would have hung way over the edges, and probably knocked the whole system over.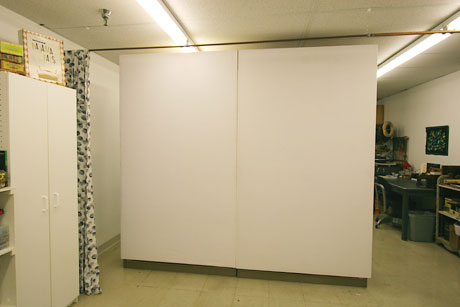 Here's my brain storm. I have these design boards made out of 4′ x 8′ insulation boards, framed with wood, and wrapped in flannel. I move them around and lean them against walls as needed. Actually they are 4′ x 7′ because I had to cut off one foot so they would fit underneath the lights in my studio. It just so happens that 4′ x 7′ is the same size as some metal shelves that I got at Sam's.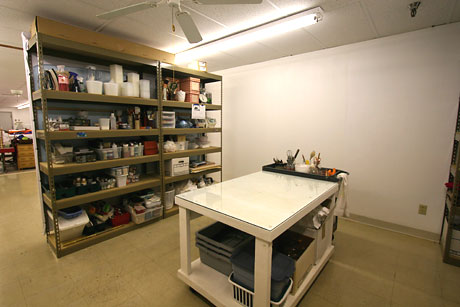 Here's the good part — we moved the shelves out to the middle of the room, and screwed the design boards to the back of the shelves (this was easy because the shelves have slots for adjustable shelves all up and down the supporting legs). Then I covered the boards with another layer of flannel to hide the split between the two boards. And look, moving the shelves freed up the wall in my paint/dye area for something else!
Don't you just love it when something works so well? Maybe it's because I've been getting up early for 6 a.m. yoga, and riding my bike to class instead of driving. It really makes me feel energetic, especially when there is left-over steak and potatoes in the frig for breakfast when I get home.