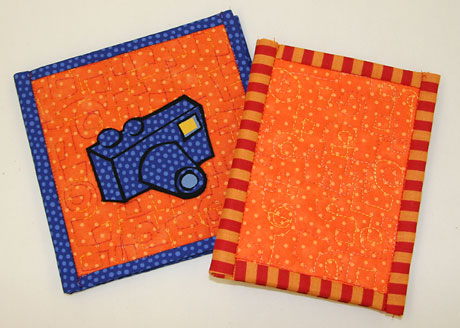 I've been making little books for two weeks. The covers are fabric but the insides are paper. I got started doing this because I was asked by a curator to send information about my quilts, and I'm worried about sending photographs to someone who's never seen the real thing. I don't think the photos tell the whole story.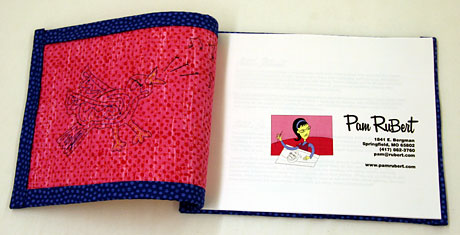 So I'm trying to design a printed portfolio that has a quilted cover. Just to give someone a real clue what the work is all about — what the fabrics are like, what the construction is like, what the colors are really like.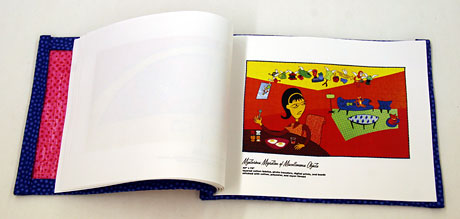 It took quite a while to design the fourteen interior pages with photos of my quilts, details of quilts, a brief resume, artist's statement, and bio, and some photos of people reacting to the work at exhibitions. In my experiments, I only tried sewing 12 pages, but the final version got to be fourteen (didn't want to stop at 13). I was a little worried about sewing 14 pages, two covers, and binding, but it seemed to work okay.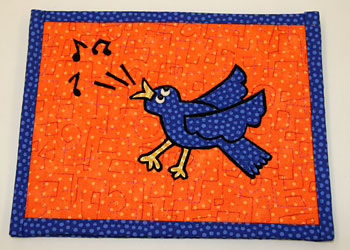 I'm having trouble with the cover design though. The covers are stitched with varigated King Tut thread, so maybe I should just leave them plain. But I keep trying to put add things on the cover. I thought about doing my name, but that seemed too obvious and boring to cut out. Then I thought about being more cryptic and just having objects on the cover. I think the problem here is I used the same fabric for the blue bird as the border — boring! And maybe there's too many musical notes.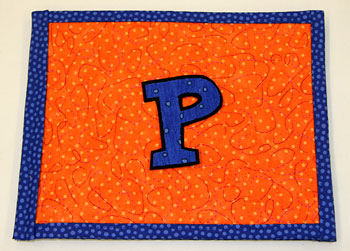 Then I thought of using my initials, PR, ha ha. Probably only I would think it's funny that a monogramed portfolio would have the intials PR. So then I thought of just P. P for Pam, P for PaMdora. But here it looks like something a cheerleader would wear.