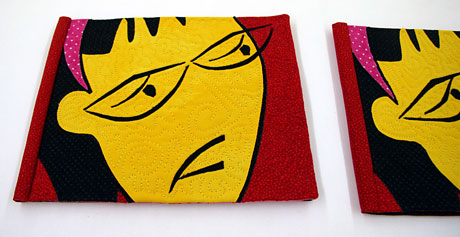 You guys are great! I knew when I got stuck, that I would get lots of suggestions if I posted my work-in-progress. And you all really came through. Thanks for all the great ideas. This weekend I changed my approach completely – dropping the binding and doing a pillow-case finish on the covers.
It helped speed things up, because I'm really not that great at bindings. Actually I don't consider myself very good at precision sewing, so I have to design around that. For these two books, I played around with some extreme cropping to keep PaMdora's face the size I normally make it.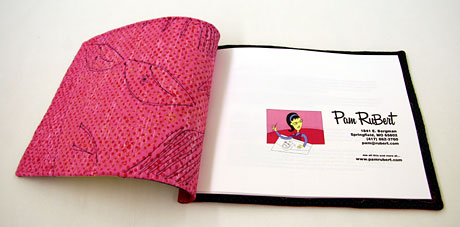 Designing these books is a completely different way of thinking – it's not just how it looks from the front, but the whole experience as you turn the pages, right to the very end. I love the way the backside of the cover looks after quilting her face. Sometimes I think the backsides of my quilts are more interesting than the front, and here's a chance to take advantage of that.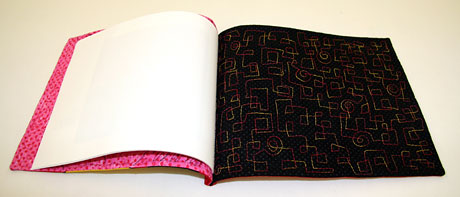 On each side, I'm using different fabrics and threads, for a little surprise and to make the viewer want to turn it over and examine every surface. Without the bindings, the books (which by the way, are 7″ x 9″) have a very nice feel to them. The covers are simple and soft. I'm using scrylic felt as the middle layer, because it has the same appearance as batting, but it's a little bit stiffer.
The funny thing was, after I finished these two books, I showed all of them to Russ and he said, well I still like the one with the bird on the cover (photo in the previous post). He said, it reminds me of one of those things you set pans on. I told being called a potholder is not considered a compliment in the art quilt world. He said he thought that didn't matter, that they were appealing that way.
So what do you think? Go back to putting bindings around all the edges? Today I started three more books with different designs, but none of them have bindings either – except for the spine. Hopefully tomorrow I'll get them done.