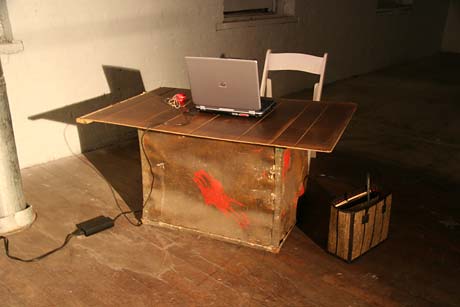 If you're wondering where I am (and I'm sorry, won't be able to answer questions from my last post until I get home next week) — I'm in Studio B which is an old warehouse that houses artist studios Over-The-Rhine in Cincinnati. As you can see here, I've already built a little office using a metal box and some old paneling that I found on the first floor of the building and brought upstairs using the freight elevator.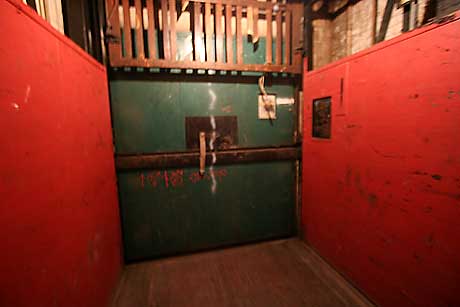 I always wanted to live in a loft and have one of these elevators, very chic I thought. It was a lot of fun running the elevator, until I clobbered my knee because I forgot that the outside door comes together in the middle from the top AND the bottom — you gotta be careful around industrial stuff like that.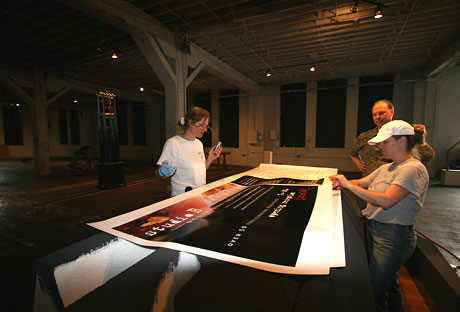 There's an active group of sculptors who organized the Studio B Invitational Show that will open in conjuction with International Sculpture Conference on Thursday. Just before we left town, Russ printed out some big banners that lists the 50 sculptors in the show. The graphics were done by Joell Angel-Chumbley and Celene Hawkins, both show organizers and participating artists.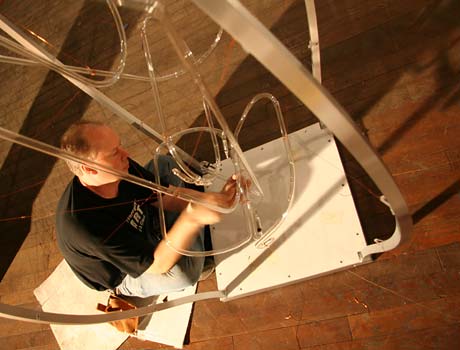 We've been here for three days, installing another series of Russ RuBert Positronic Neon sculptures. It's been fun working in this pretty raw environment that the Studio B artists have prepared for the show. There's a lot of creative energy, with sculptures showing up every day.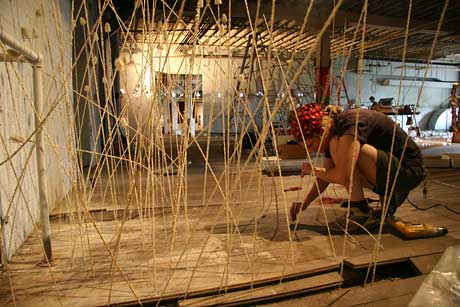 Some sculptures are just sited, others require lots of work to install. Here's Celene Hawkins creating and installing her work based on tweasel plants and urban environments being reclaimed by nature.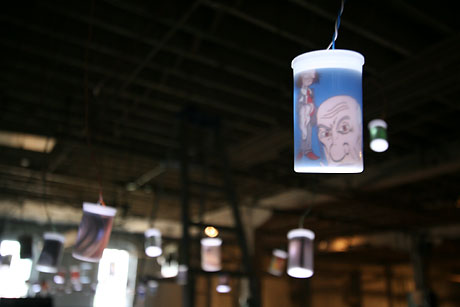 Nathan Hamilton has also spent more than three days installing the work "Observations of Human Creativity." It's made of 460 clear film canisters lined with photographs that he's googled on the internet using the term "ART" with qualifiers such as bad, good, and tacky. The canisters are lit from the inside with little LEDs that make the photos glow, so there are oodles of wires to string and organize. It's really beautiful and interesting — I'd love to have a Christmas tree covered with his work.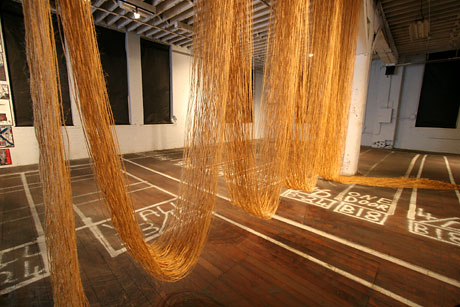 This is a detail of an installation by Robert McConaughy who owns Mac's Farm and Sculpture Center which was just featured in Sculpture magazine. It's made from twine and smells great. The floor isn't part of the sculpture, it's left over from the inventory system of a sporting goods factory that once operated in this building.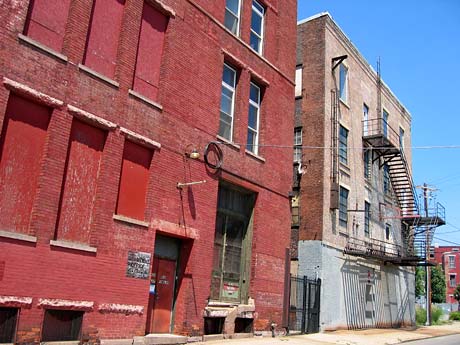 Here's the outside of the building. Looks a little rough because it is. The light gray building is the Carl Solway Gallery which sells contemporary sculpture to international collectors, so appearances can be deceiving. I like driving around Cincinnati because they have tons of beautiful old buildings (better looking than these, but many are also sadly neglected).
I call it urban camping, because although we are staying in a friend's beautiful house near the University of Cincinnati, we spend most our time in the Studio B gallery. I brought our own toilet paper (although that wasn't necessary since the facilities are more than adequate) and we've had to be creative, spreading cream cheese on bagels using scissors because someone forgot to bring a knife.