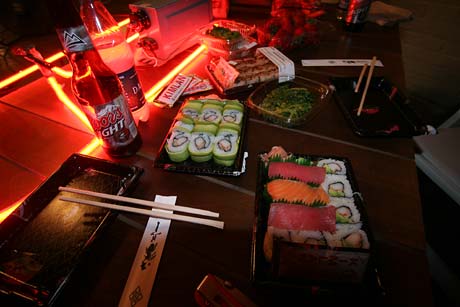 Just so you know, urban camping in an old warehouse isn't bad, in fact it can be a lot of fun. I found an IGA near here with a little sushi stand inside. The sushi man makes it fresh everyday, so I pick some up for lunch. I actually cleaned off my "desk" so we could eat dining room style.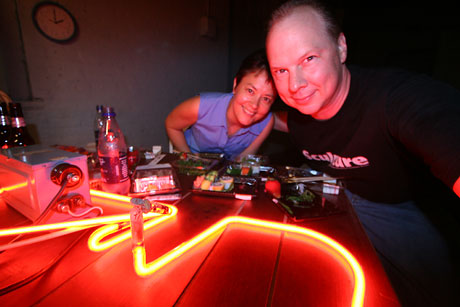 Russ got romantic and built us what he calls a little "urban campfire" using a scrap piece of neon. Maybe he's getting ready for our anniversary which is this Sunday. Can you see the clock in the upper left corner? It says 2 o'clock. Is it a.m. or p.m.? Who knows, we've actually been working until 2 a.m. for the last two nights and so maybe that's why our eyes are all squinty. Luckily I brought about 100 music cd's to play for driving and working!
Cindra asked how I can work and travel at the same time. Actually, I have a dirty little secret that I have a "day job," but I don't like to talk about it here, because this is my "art adventure" blog. I also manage some office and industrial property, but with the blessings of cell phone technology and some pre-planning, I can work on the road. Besides being a master-neon-glass-holder and art-studio-caterer, I am also working on getting two air-conditioning units repaired, roof replacements bid, and contract janitorial calls! No wonder my eyes are all squinty! Actually I think bouncing around between art and business make me more creative, as much as I hate to admit it. I hope it does for Lisa too.
The sculptures were done late last night, and the conference started today. The opening at Carl Solway Gallery and the Studio B Sculpture Invitational opens tonight in about an hour. Hope there's a good turn out, and we get lots of good photos…