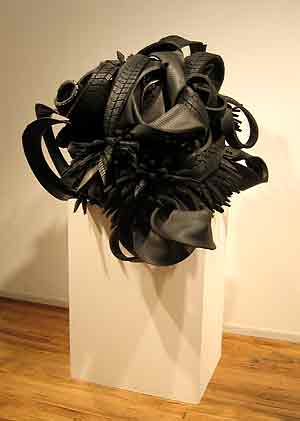 Being at the International Sculpture Conference in Cincinnati last week gave me the opportunity to meet and learn about some artists I hadn't known about before. Chakaia Booker, who makes sculpture out of tires, was the keynote speaker. This piece was in the Carl Solway Gallery, but I actually like her larger installation pieces better, and you can see them on her website.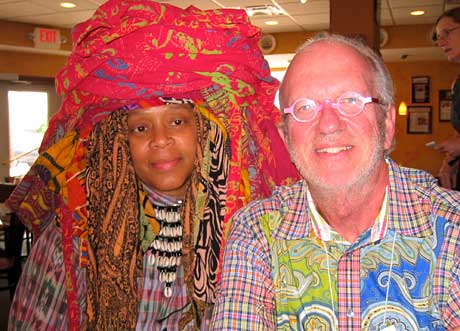 Everywhere Chakaia goes, she wears these crazy wrapped outfits that she sculpts on her body every morning, so anytime she's at an event you cannot miss her. She also wrapped string and yarn around her ankles and wears bracelets made out of tire material. That's Robert next to her, although he's not an artist but a collector, he also shows up at events wearing fantastic pink suits and matching glasses. Talk about making me feel like a plain jane. Just when I was getting started on building my black wardrobe….now I'm thinking I should get more eccentric.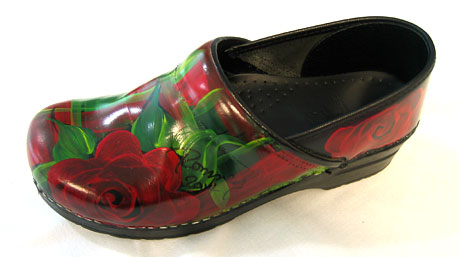 Robert also wore hand-painted artist-signed shoes that day. He took one off so I could get a better photo. I have a black pair of Dansk like this, so when I get some free time, I think I'll turn them into cartoon shoes. Wouldn't it be funny to paint cartoon toes on them, like you were seeing inside the shoes? Maybe a couple of toe rings…nah, feet are too hard to draw. I'd rather do faces.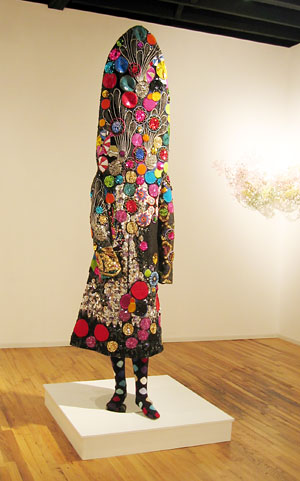 Before the conference I was reading an article about Nick Cave's "Sound Suits," so was happy to see an especially good one at the Solway gallery. I'm always telling people I don't do wearable art, but this might be enough to change my mind.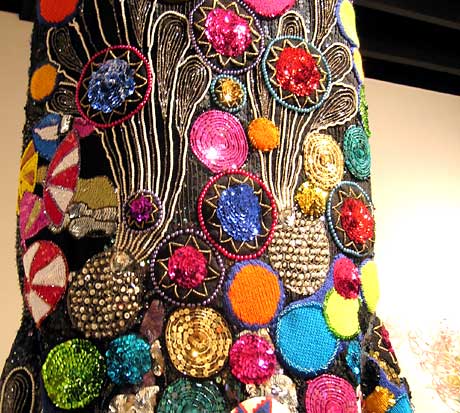 The surface of the suit is covered with all sorts of textures and techniques — weaving, needlepoint, beads, sequins, who would think sequins could be so great?! — Somehow he makes them all work together.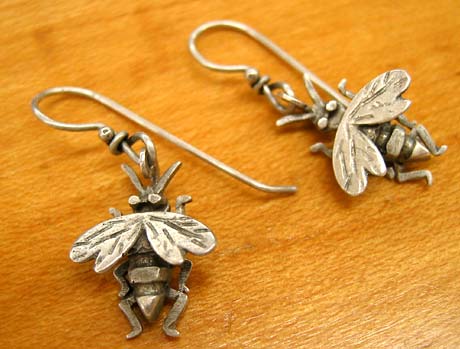 Here's as eccentric as I get. I wear goofy watches and honey-bee earrings. I bought these a couple of years ago at Thomas Mann's studio/gallery in New Orleans. It was nice to catch up with him at the conference — his studio on Magazine Street survived, and he's put together an exhibition of art in response to the Hurricane Katrina that will be traveling to 10 museums.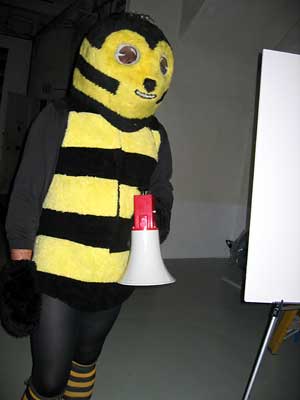 Speaking of bees, a big Bee showed up at a party at Pat Renick's studio on Friday night. Pat is a teacher, mentor, and cheerleader for the sculpture community in Cincinnati. Something like 200 people showed up for the party, and Pat hired Cincinnati police officers to escort people to and from their cars.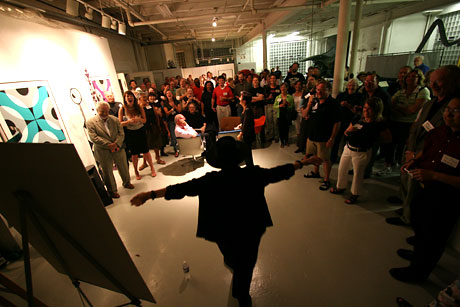 Pat always wears black, and almost always wears a black hat, so when she's not wearing the hat, she has hat hair. She's done inspired things like make big dinosaur sculptures out of VW bugs and helicopters. Here's an interview and photos of her work from Sculpture magazine.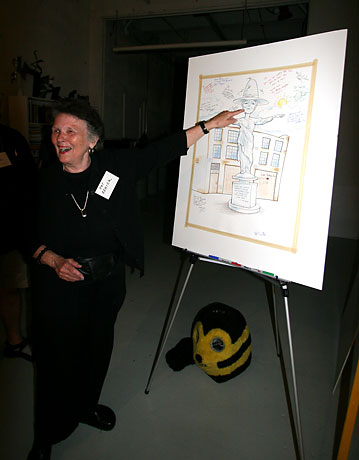 Even though Pat threw the party, she didn't know that Mr. Bumblebee would appear to present a special gift from the Studio B artists. Everyone loves Pat, so it was a touching moment.
Some other artists at the conference that raised my eyebrows — James Croak wasn't eccentric looking, but he gave an articulate and witty presentation of his work. He makes figurative sculptures out of dirt. And he had entertaining stories about Enron guys buying his sculptures about sin and corruption.
Saya Woolfalk put on an interesting presentation. She does paintings and performance art influenced by Japanese cartoons, how can I not be interested in someone who sews their art? We also met Nikki Blair, who did some scooters for a North Carolina Museum exhibit we admired last year.
Since I was dragging one of my quilts around all weekend, I had a chance to show it to lots of people. Nikki said my quilt was "groovy" which I consider a high compliment, and one that I can't say I've gotten before. That's one thing that's good about making art quilts — have quilt, will travel. Most the sculptors I met last week couldn't say that!