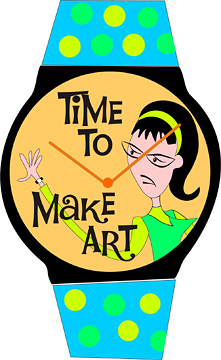 A couple of years ago, I saw my friend Laura had a watch that said, "Time to go to your studio and Make some art" on the face (she's a sculptor). She said her son gave it to her, and it really worked. So I spend a lot of time searching the internet for a watch like that but never found one.
In the meantime, I started collecting plastic cartoon watches that I thought looked funny or cool. One of my favorites is gray with red question marks all over it. Recently I just got this Swatch watch with cheese and toast. And like swiss cheese, it really has some holes in the band.

The idea behind my watch collection was that even if they don't say "go to your studio" at least when I look at the time, they remind me to lighten up and do some art. Last year my goal was to spend at least three hours a day in the studio, trying to start by 3 p.m. at the latest. I did pretty good with that goal last year and finished something like six or seven big quilts.
This year my goal has been to make one quilt a month because I have a solo show coming up in December, and I really need to get some new work done. Now that it's mid-year, it's a good time to evaluate how I'm coming along on my goal. So here's my evaluation: I stink.
It's July and here's what I've done — one really big quilt and one teeny-tiny one. D-minus. Reminds me of the time I got a progress report in Algebra II at mid-term, and I tore it up, burnt it up, and flushed it down the toilet before my dad got home. (I hope he's not reading this). My reasoning being, it was only mid-term, and I could work hard and make it better so I didn't really need to show it to anyone. (I think I did make it better, didn't I?)
Anyway, being an optimist, the glass is half full, it is only July, and I can start working harder. So now I'm going to rearrange my schedule and start doing art first thing in the morning, which makes a lot of sense anyway because the warehouse is cooler in the morning and so is my studio. My new goal is to do accomplish some art everyday by NOON!
There. I've written it down, so now I have to do it. Only problem is I'm afraid to hit the "publish" button, because you see, if I publish it then I really will have to do it…. right Dad?