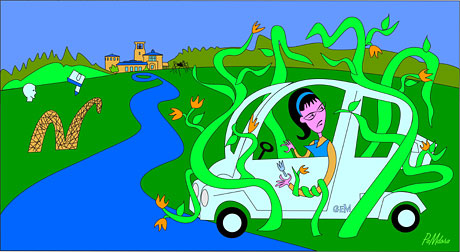 Last weekend we visited our friends, Karen and Robert, who live in a fairy-tale kind of house, maybe like Jack went to visit after he climbed the Beanstalk. It's surrounded by acres of interesting plants and sculptures, and I've blogged about their great art collection before. This visit I had a great time driving around on the paths in a funky little electric car called a Gem and sketching the art.
After I got home, I finished this drawing called "Wild Sculpture, Wild Weeds." In case you think I've become paranoid about plants (maybe I have…) another influence on this drawing was seeing the new Pirates of the Caribean movie. Need I say more?
Seems like I've only been home for a moment, but tomorrow we leave again for a family reunion on the west coast. The wedding on Saturday should be very interesting. I'm trying to figure out what to wear for a hayride!