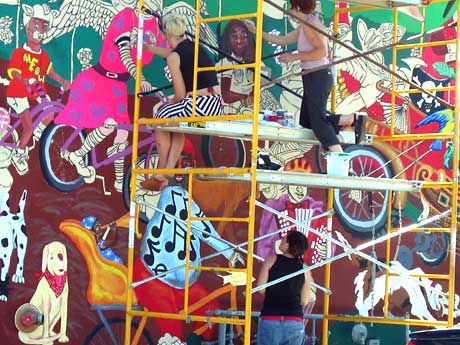 Within two hours of landing at the Portland airport we were at Bolt Fabric Boutique (probably a new record). It's in the Alberta Arts District with lots of other funky shops and restuarants (check out Tin Shed for brunch – yummy scrambled egg dishes). Here's some artists who were busy painting a great mural on the local bike shop.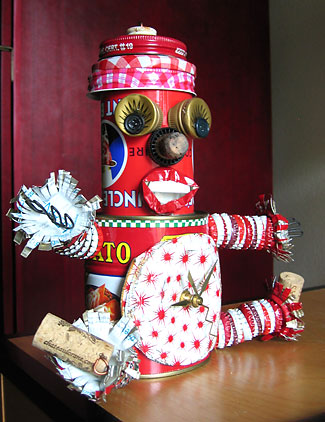 By early evening, crafters and artists had taken over the street for blocks and blocks for the Final Thursday on Alberta. I got this groovy clock from a woman who calls herself Ruby the Resorceress who makes jewelry and other fun stuff using recyled cans and bottle caps. Recycled art and clothes seem very big here in Portland.
The next day we had Peruvian lunch in the Pearl District with fellow bloggers Geri, June, and Terry. Gerri has already posted the whole story of our lunch, so please read it on her blog, Crazy for Fiber. In spite of the fact I had a Mojito at lunch, we still had enough energy to visit several excellent galleries in the Pearl – especially amazing was an exhibit of glass sculptures by Anna Skibska at the Bullseye Gallery.
Today has been spent in the search of beauty of another kind. No, I don't have mud on my face, it's a wild seaweed facial. This was after I had a Coffee Bliss body scrub! We're staying at spa hotel, I like to call it Cannibal Spa because they have all these kooky beauty regimes that involve food. After they put the vanilla flax bags on my eyes, I thought they were going to pop me in the oven — yumm!