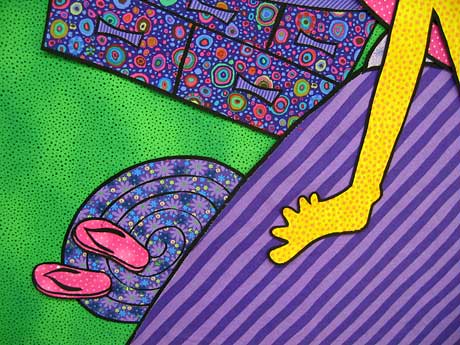 I like summer in the studio, because I almost always take off my shoes to work. So even though I've had to dress up for some meeting or other silly reason, when I kick off my shoes I immediately feel more creative. Now I know when you're probably thinking — oh horrors, what about the pins and needles??!! But I do try hard to keep track of those things so there's no loose ones in the carpet.
Going shoeless is also good for sewing, because I have more control of the foot pedal on my sewing machine when I'm barefoot.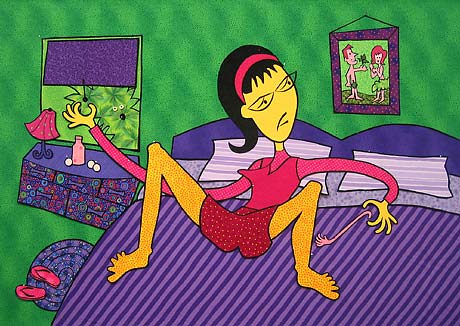 Here's the new work that I'm getting ready for quilting. It's titled "It's Only a Leaf" in honor of the outrageous case of poison ivy that I got earlier this year. My doctor said it was the worst case he had seen all summer!
I usually start a piece like this by throwing some fabric on the floor to get an idea for the color palette, then move to the design wall as I cut out the figures. I take a lot of photos as I work, and it's fun to look them over in the evenings to decide what I want to add the next day. I've organized the photos into a slideshow and you can see the sixteen-second version of how I got to this point.