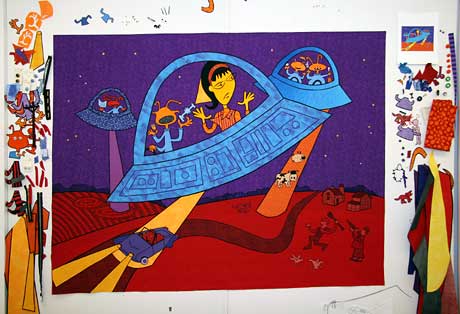 A few weeks ago I was talking with the faculty at the university where I'll be having a solo show starting in December, and they suggested showing some work-in-progress so the students can see how I work. I thought this would be a great idea, and got excited about not finishing this piece "Alien Invasion" because I though it would be funny to have a UFO (unidentified flying object) that is also a UFO (un-finished object). ha ha, right?
But then I realized that I really needed to finish it because I needed an image for the show postcard, and I needed to finish it before leaving town for the International Quilt Festival in Houston — yikes!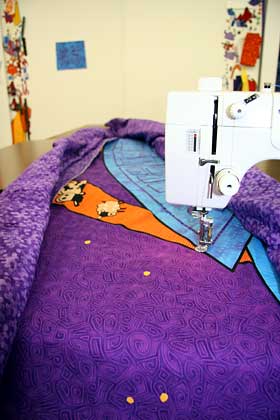 So for the last week instead of working an average of 3-4 hours a day in the studio (a schedule I started this fall to get ready for the solo show), I've been working more like 8-11 hours a day. Which tends to make me a little cranky. But luckily I had the trip to Houston to look forward to, the carrot at the end of the tunnel.
In addition to finishing quilts, I've been organizing lots of things for the process part of my show — like drawings, stitching samples, and inspiration sources. I'm really having fun with this idea of making the show more experimental. We just finished building eight new pin-boards that will be installed in the gallery for that part of the exhibit. Hope to show you some photos of that stuff when I get back home!