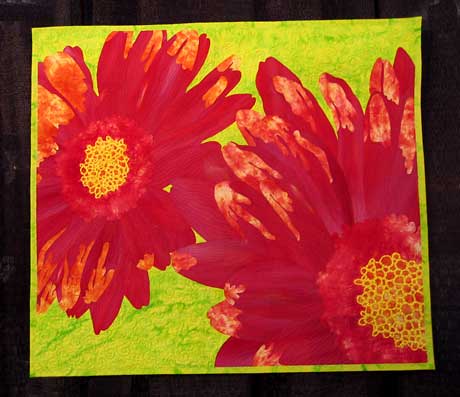 Just got back from the International Quilt Festival in Houston where I saw a lot of great stuff. Maybe in December when I get my show installed, I'll have time to post a gallery of photos like I did last year. When you walk around a show like this, you notice the award-winners, but you also notice some great pieces that didn't get ribbons. This is "Gerbera" by Mandi Ballard.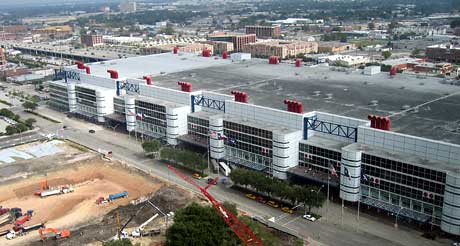 This is a photo of the George R. Brown convention center from the twenty-fourth floor of the Hilton. What part of this huge building that isn't filled with quilts during the festival is filled with thousands of booths of people selling stuff like fabric, buttons, thread and sewing machines to quilt-makers. Ask me how I know 🙂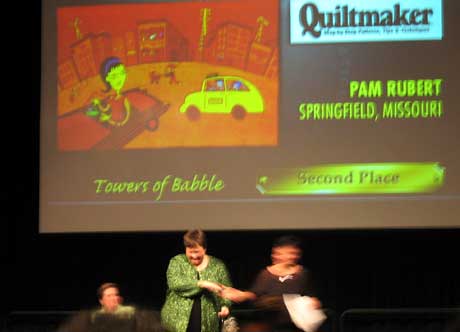 Here's me at the awards ceremony doing my impression of a two-headed alien. Well, it was on Halloween after all…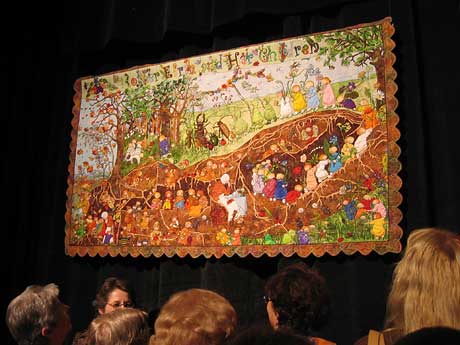 Here's the Best of Show "Mother Earth and Her Children" by Sieglinde Schoen Smith. I'm glad she won best of show, because she entered this quilt in my catergory, Whimsical Quilts. So that means that all the rest of us got bumped up one notch, and I won second place 🙂 I also had another quilt "The Vintage Purse" in the "Best of SAQA exhibit – The Creative Force."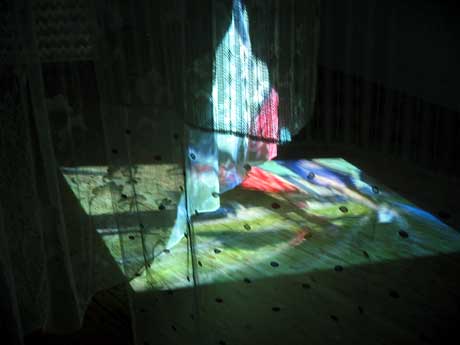 Another reason that I went to Houston this year was to visit the wonderful museums that are only a few minutes away from the IQA show and accessible by the Metro train. The Museum of Contemporary Art had fantastic installations by Pipilotti Rist, a Danish video artist who explores themes of being feminine, love and the struggle for independence.

The Houston Museum of Fine Arts has two huge buildings full of art and there were also a couple of fun exhibits — Best of Show (the dog portrayed in art from the Renaissance to today) and the Cats Meow was a similar exploration. Saw a Damien Hirst installation and another wonderful exhibit…The Past Made Present (how different artists show memories in their work). And the Houston Museum of Contemporary Craft had a great show also. Finding Balance: Reconciling the Masculine and the Feminine.
I think it's interesting that many art quilters say they want to be accepted by the art world, and yet few of them show much interest in any other art form or in other contemporary artists. On the Quilt Art list today there has been lots of discussion related to how art shows are juried and judged, so I posted a comment about visiting these museum exhibits. I was curious if anyone would email me and say, Hey, I went to those museums also! But so far haven't heard a peep from anyone.
Since I travel to a lot of places to see art, I'm really impressed that I could go to the IQA show and visit three top-notch museums within a few blocks of each other. Too bad more people don't realize this. It's good to encourage people to take design classes, but to really be serious about making art, you need to look at a lot of other art (and not just at other people who are also trying to learn to make art) just as to be a good writer, you not only need to take writing classes, but you need to read great literature and poetry.
I enjoyed the IQA show very much, but I really don't get much inspiration from other quilters because I don't want to imitate what others are doing better. I got a lot of interesting ideas from seeing these other exhibits.