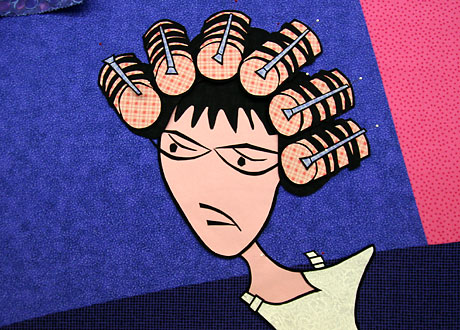 I got my hair done today. No, really I did get it cut (I have to every four weeks because it's so short), but I don't really put my hair up in curlers nowadays, although I have been known to do so a long, long time ago. This is actually part of one of the quilts I'm working on right now….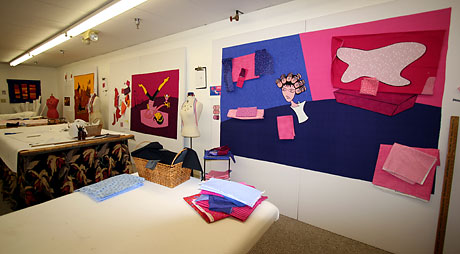 and PaMdora is evolving out of the primordial soup of quilt fabric. Remember last month when I told you we were building new pin boards for my studio? Well, here's the result. It is so great to have all this extra design space.
I've set up a quilt assembly line, working on four quilts at once, and put four of my headless friends in charge. Only problem is they also don't have any arms, so nothing gets done when I'm not here (okay, actually they are vintage dress forms so they're not really going to do any work, but they keep me company).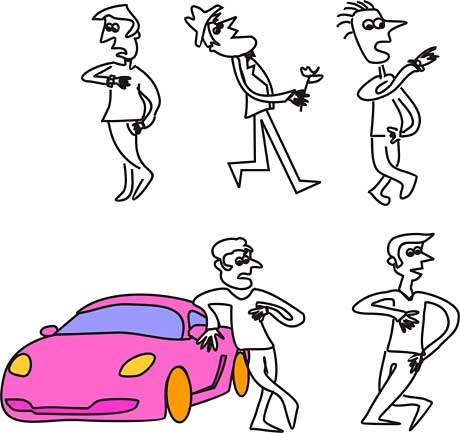 Here's some guys I was drawing last night. The above new quilt-in-progress is called "Late Date" and it's about how I'm never ready in time for a night on the town while my date, or rather my husband, is already ready and waiting.
So in the quilt there's going to be a little guy that you see through the window, outside waiting by the car. I'm not sure I've captured the right character….Which guy would you pick to wait for you? (Little tip, each one comes with a Porsche, so don't let that part sway you.)