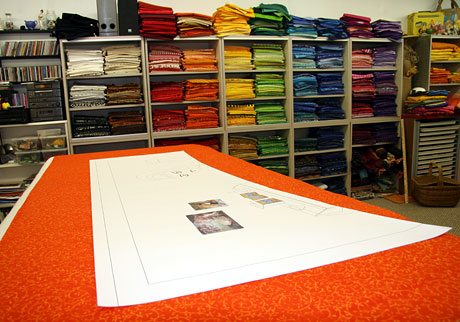 To help organize my work for the upcoming show, I've made a little paper 3-D model of the gallery with my quilts hanging in it. I call it my Gallery Dollhouse because it even has little paper furniture that I play with as I plan PaMdora's quilt studio that will be on display in the show.
The blessing and the problem with this technique of visualization is that I've decided I need ONE MORE QUILT for my Wall of Yoga 101 poses. Can I possibly squeak out one more quilt in time? Time will tell, and here I've started cutting the background fabric for Yoga 101: The Crab Dip Pose.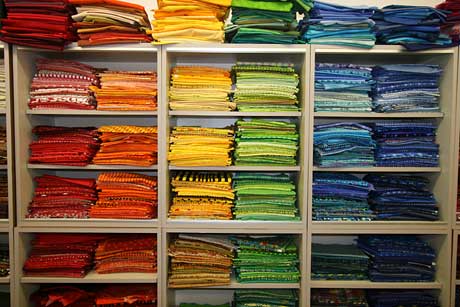 Can't resist a closeup photo of those shelves of fabric. My nephew was here today and asked where I get all this fabric — actually everyone asks me that. At my local quilt stores, in shops at every city that I've visited in the last four years, late night internet orders, and a few vintage scores. I used to buy half or one-yard sections of fabric when I could visualize it cut out as a coffee table or a pair of pants. Then I realized I needed more big background fabrics, so now I'm buying two and three yards of dots, checks, and plaids.
Right now, it's my yellow section that's lagging. It's hard to find good yellows. I have lots of reds, but many of them are boring. Greens are definately my biggest section, I guess because of the popularity of lime green last year.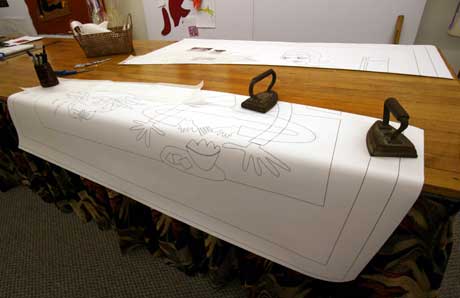 These big patterns are slippery and sometimes hard to hand, so I weigh them down on the cutting table with these old irons. I like using vintage equipment in the studio and plan on taking some of it to set up in PaMdora's Quilt Studio — except all her stuff will be mostly pink and blue. More on that later…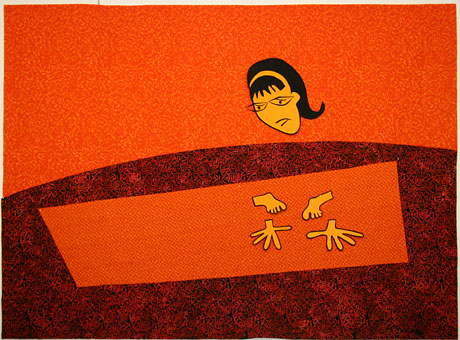 With all this work on the yoga series, I'm all fingers and toes these days.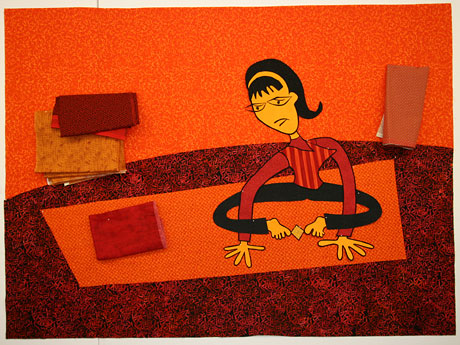 And luckily I found a basket-weave fabric that looks like a Triscuit when it's cut in a little square. I'll have to get back to the studio after these holidays are over and cut out the crab. We went to Red Lobster for lunch today, so I was able to do a little crab research.