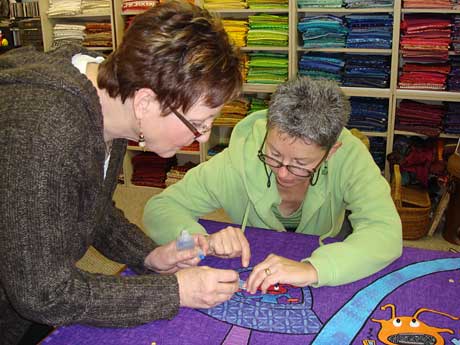 Yesterday Santa came early and left two elves in my studio. These elves are named Merrilee and Lettie, and luckily these elves know how to sew! They also know how to do micro-surgery on frayed fabric edges.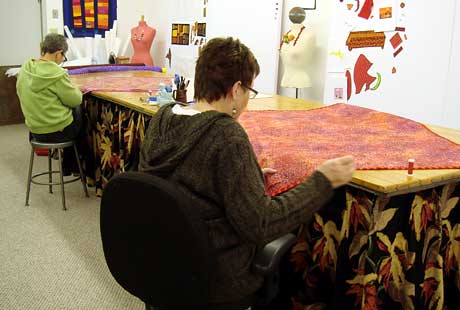 They also know how to sew hanging sleeves on the back of quilts, and since five quilts for the show needed sleeves, I was running short on time. So thank you Merrilee and Lettie for helping me out with lots of final tasks yesterday.
This photo is also a great opportunity to show off the new table shirt that I made a couple of weeks ago for my big studio table. For several years I had been kicking around these amazing draperies that were in my grandmother's house. The pattern on the fabric was so big and bold, I didn't know what to do with them. Even though I was told I could sell the barkcloth for a high price, I could never bear to part with them. Then I had this idea to cover all the junk under my table, so I cut the drapes in half and faked pleates with a staple gun. Now my studio is so much more homey, and I have good vibes from my grandmother's house in my studio.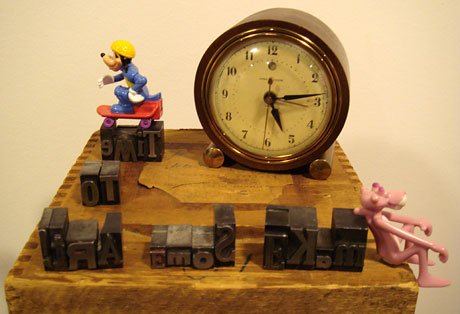 Because I had excellent help of the elves yesterday, I had the whole day today to work on my studio installation in the gallery. Here's a few closeups — I'll post a full view when it's done. In case you can't read the printer block letters, this says "Time to Make Some Art!"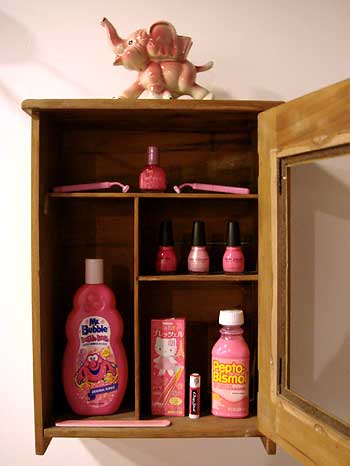 I call this "Still Life with Pepto-Bismol." Or maybe I should call it "Still Life with Mr. Bubble." I did it because I thought it was funny to put together all these pink things in a medicine cabinet, but the cosmetics and the brand names on the bottles also relate to the cosmetics theme in my Late Date quilt that is part of this installation environment.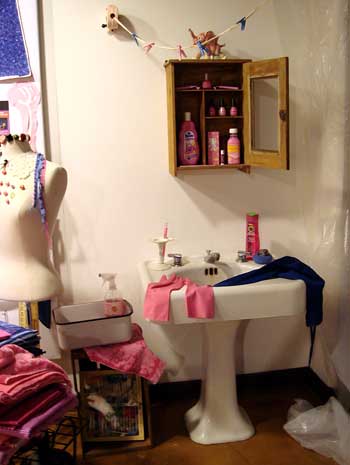 The medicine cabinet also relates to the sink, which relates to the dyeing enviroment of the studio. Talk about free association! Anyway, here it is in a slightly bigger context. After studying this composition, I think I need to move the vintage clothes line to the left, hang the blue apron, and turn the orientation of the pink rubber gloves. Tomorrow I will finish the jars of dye fabric to complete this section of the studio installation.