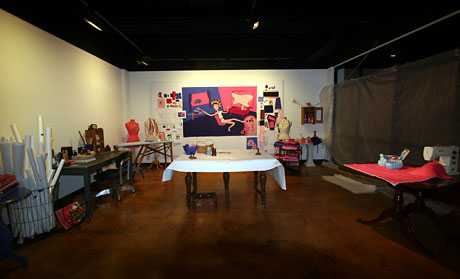 Today has been a crazy day! There's a big snow and ice storm hovering over several states in the Midwest, and everything in our city has come to a standstill as ice rains from the sky, and people are high-tailing it home to hibernate from the weather. It's put me in a bit of a tizzy, because it's unclear if the university will have to cancel my opening tomorrow.
In the meantime, I just keep working — because what else can I do? The ironic thing is, a few years ago I opted to focus on gallery and indoor art because I had been burned out from working hard on big outdoor projects where attendance was subject to the whims nature. Oh well, we can't argue with Mother Nature, but this means I may have to do a quilt about her!
Above is the installation part of my show. I still have some tinkering to do, but I'm really happy with how it's shaping up. The blank space on the left wall above the desk is where my Infinite Drawing will go. This afternoon while my quilts were being hung on the other side of the gallery, I went back to my (now empty) studio to sew the drawing together.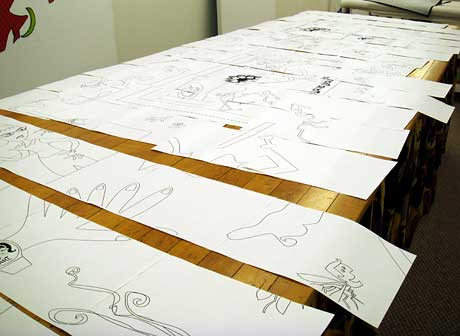 From earlier experiments, I decided it was easier to sew the columns before the rows, because sewing paper isn't like sewing fabric. You can't fold or scrunch it. I didn't even know if this would be possible since I had never done anything like this, but it's something that does require assistance.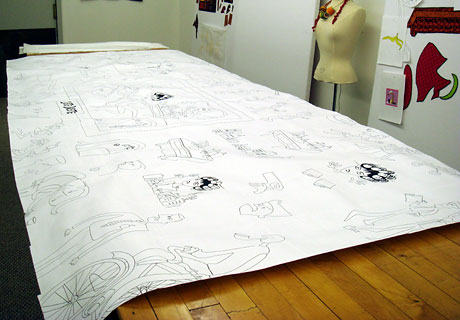 Here's the final drawing — it's 5′ by 11′. I designed it to run off the pages, so that you can imagine the drawing could go on forever — kind of like wall paper. I can't wait to hang it tomorrow and see how it looks.