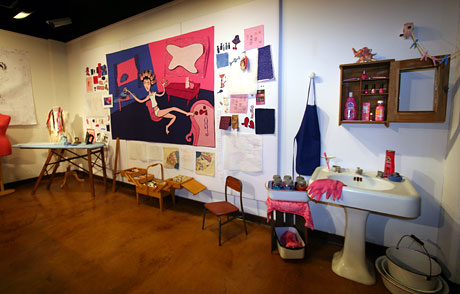 The opening of The Perils of PaMdora has been postponed until next Friday because a big ice storm the size of three states hit yesterday. It feels a little like having school cancelled because of snow on the day you have a big test. Oh great, I have another whole week to prepare. And then, Oh no, I have another whole week to prepare.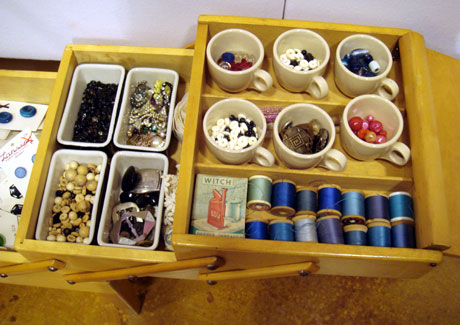 Actually it's mostly done. I spent the snow day finishing up my jars of blue and pink dyes and arranging tedious details like these vintage tidbits in an old Danish sewing box. Lisa asked where I got the day-glo pink plastic gloves. The Asian food store. If you haven't been to one of these, check out the kitchen utensil section, there's always interesting stuff there.
The pink and blue clothespins came from Japan where many people still air dry their clothes. Lisa also asked if I was worried about any of my stuff disappearing. At first I was, then realized I couldn't do my best if that's what I focused on, so I'm just putting my personal invisible force-field around everything and going for it. Actually, when we visited Frank Lloyd Wright's Falling Water house, there was millions of dollars of stuff laying around, but there's micro-chip alarms attached to everything — so you never know!
There are stories about most of the stuff in this installation. The sink came from our old house, but I love it so took it with me. The little metal chair I use to reach high places on the design board is actually one that Russ built for baby chimapanzees when he worked at a chimpanzee psychology research center (they need strong furniture because they are very strong.)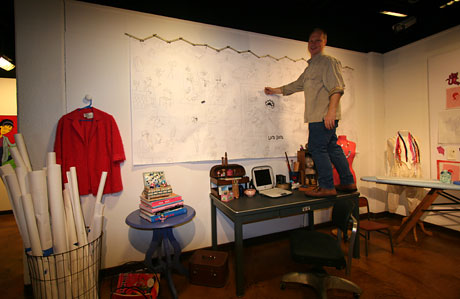 Speaking of Russ, there he is — hanging folding rulers above the Infinite Drawing on the wall. I like these old ones when they are expanded to look like rick-rack. Have you ever looked through your art books for pink or blue ones? They're rare. And that's my grandmother's fuzzy vintage coat on a blue plastic hanger above all the rolled-up patterns for all the quilts in my show.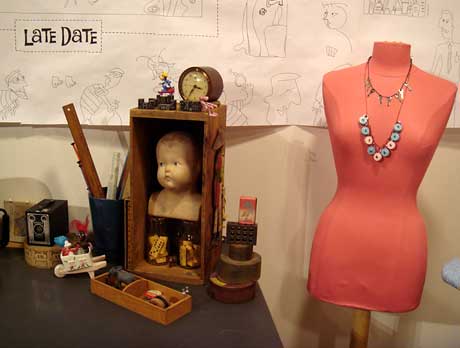 Here's another view of a still life I showed a couple of days ago. The printer blocks on top say "Time to make some art!" That pink box is a tiny bottle of vintage Ben Hur Perfume that I found at a flea market. Who ever heard of Ben Hur perfume and what does it smell like – horses?? The necklace on the dress form is made of tiny toy keys and toy padlocks that I accidently found on Ebay when I was looking for something else. I painted the dress form with latex a couple of years ago to match our dining room.