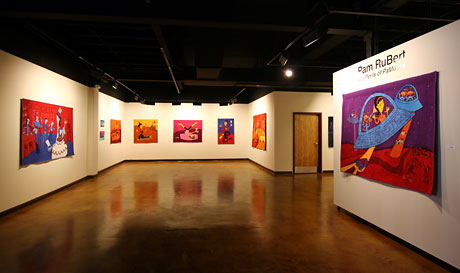 Here's a photo of the front part of The Perils of PaMdora exhibition at Pool Art Center Gallery. I have six new quilts in this exhibit — "The Singing Telegram" is on the left and "Alien Invasion" is on the right.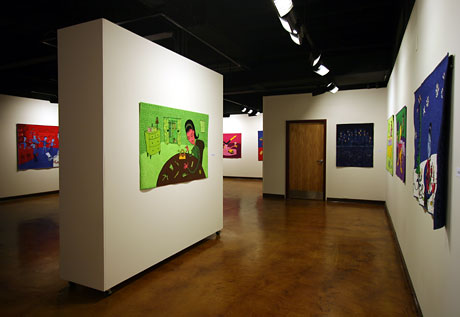 The back of the partial wall with my quilt "The Vintage Purse."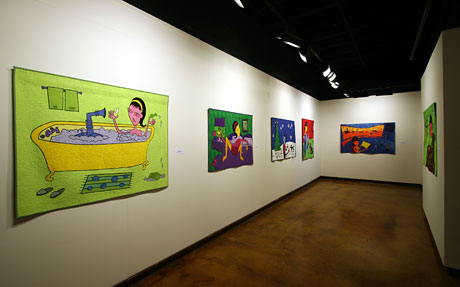 This is the section behind the partial wall.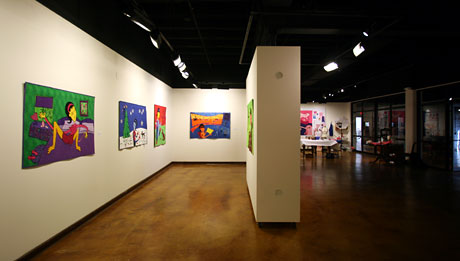 Sixteen quilts in all. I feel pretty good about this, because a year ago when I first got this show scheduled, that's how many I planned to have done. But since two of the quilts are very small, these sixteen quilts don't fill the whole gallery. That's why I designed the quilt-studio installation in the right wing.
From this view, you can barely see the installation on the right — PaMdora's Pink and Blue Quilt Studio. I choose that section for the installation because it seems almost like a separate room in the gallery and doesn't seem to interfere with viewing the finished work. Would it have been easier to finish more quilts or the installation? I'm not sure, but it does make for an interesting mix that has been well received by the students and faculty at the university and most people who have seen the show.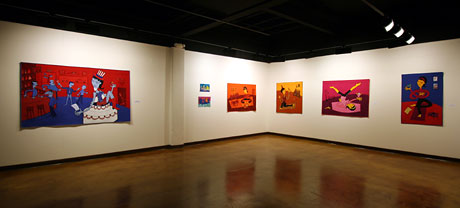 Back at the front again, this shows a better view of the Yoga 101 series. At first we had them evenly spaced, then later squished one to add the small ones, but I kind of wish we hadn't.
Last week we made these Christmas cards with Russ's sculpture to send out, so I could send a note that the PaMdora opening had been delayed due to weather without paying for extra postage. It worked out well though, and we had a nice turn-out that filled the lecture room at the university.
I also spent a lot of time organizing my photos and thoughts for the Artist's Talk. This week I hope to get some of this stuff posted on my website. I'm thinking about presenting some of my talk in a web-magazine format.