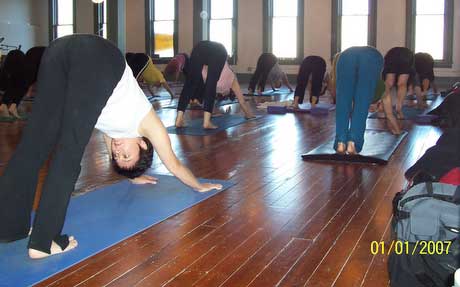 Happy New Year's everyone! Okay, I admit it — I have been a blog slug for the past three weeks, and am trying my best to rise out of slugdom. But really, wasn't it only a few hours ago that Dick Clark's countdown was on tv, and we were opening the headache-inducing champagne. At midnight, it seemed like a great idea to run outside, fire up the cooker, and grill some steak and eggs and listen to the center-city fireworks over our garden wall.
Anyway, I'm not ready to list a bunch of new goals and resolutions — it was enough to get out of the house yesterday to participate in the New Year's Yoga Mala at a downtown loft. Especially because I already know how much fun it is to do 108 Sun Salutations in one afternoon. Thanks for the photo, Kirsten! Russ asked me when he saw it, why do they call it Sun Salutations when he said all he saw were a lot of moons.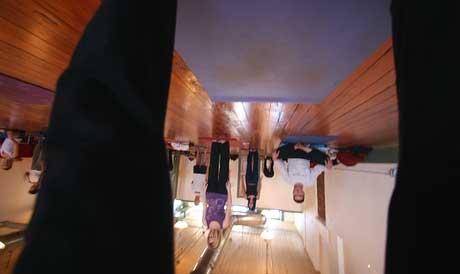 I also took my camera to the event, and even tried to capture what it looks like half the time. But it was a little hard to hold this downdog pose and hold the camera.
I learned long ago in public high school that the best way to get out of class legally is to become the class photographer, so I bought a camera and got someone to teach me how to develop and print photos for the yearbook and newspaper in those pre-digital days. So likewise, whenever I got tired of doing the sun salutes, I took photography breaks.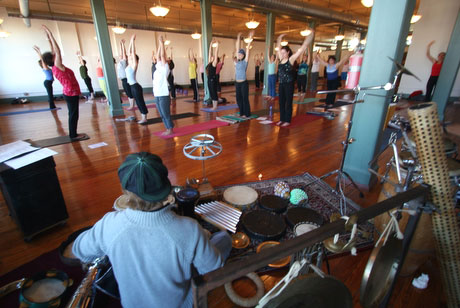 Overall the event was pretty cool — about fifty people showed up, there were real live improvisational musicians playing all sorts of strange instruments, and a singer-chanter who counted the chants on beads. And snacks! For all my yoga friends, I've put together this slide show of the New Year's Yoga Mala.