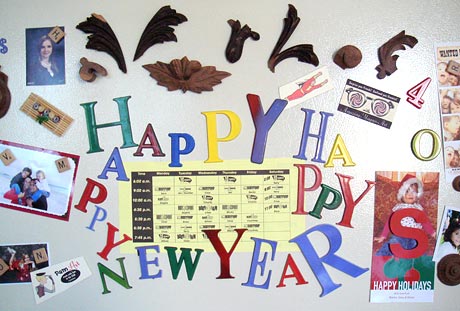 Around here we celebrate the New Year's most all of January. Some people make New Year's resolutions on January one, but I usually have to start with something like a rough sketch and fiddle around with it for the whole month.
This arrangement is on a refrigerator in our kitchen. I've covered it with magnetic letters that I got at a vintage salvage place in Chattanooga called "Estate of Confusion." The magnetic letters were all brown, so I sprayed them with Krylon paint. At the center is the schedule of classes (aerobic, step, spinning, combat) at the gym near our studio. I guess it shows that most of my New Year's ideas have to do with health and fitness. Here's some resolutions I've been thinking about:
Cardio workouts five days a week
Drink a glass of of milk every morning
Eat more vegetables
Get a better haircut
Use more ribbon
When our nieces and nephews visit, they like to play around with the letters on the refrigerator which why I put them there. If they are missing a letter to spell something, they can use a Scrabble letter to fill in. You can turn anything that's not too heavy into magnet art by getting a roll of magnetic stuff at an office supply store. It's easy to cut with scissors, and already has adhesive on one side.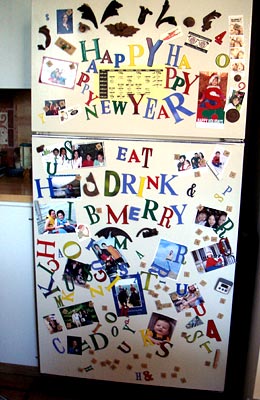 We call this refrigerator our beverage refrigerator. There's also a lot of sauces in there. If we ever finish remodeling our kitchen, we'll have to find another place to store all those bottles and my magnetic art.
Here's where we store everything else. Magnets don't stick to it because it's stainless steel. Russ took the doors off and polished them with his magic tools at the studio. The patterns he said were inspired by something — can you guess what?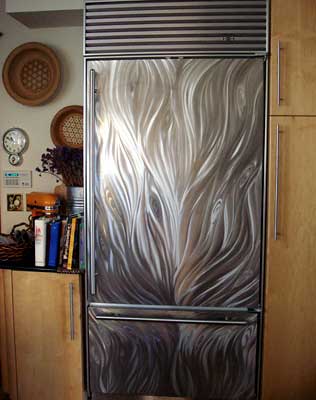 So far we haven't met anyone else who has his-and-hers art refrigerators!