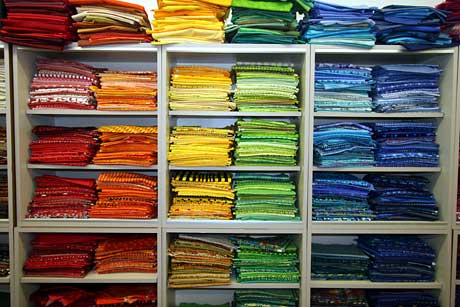 Yay, I'm a finalist in the FiberArts Magazine studio contest! I'm not sure why I entered, except that the fact that the prizes are mysteriously not named added a little intrique to the whole thing. It about killed me to enter, because the deadline to submit photos and written information was the same day that my show opened on December first.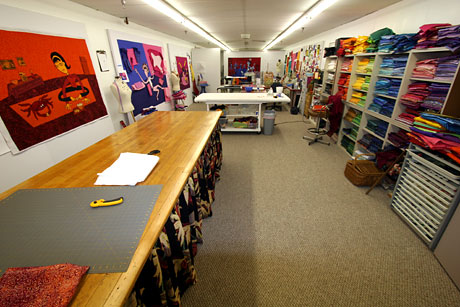 But I had to take some photos anyway of my studio right before the show, because I figured it would never look better than when it was full to the gills with work in progress. Except of course, I had to clean it up…..yikes!!!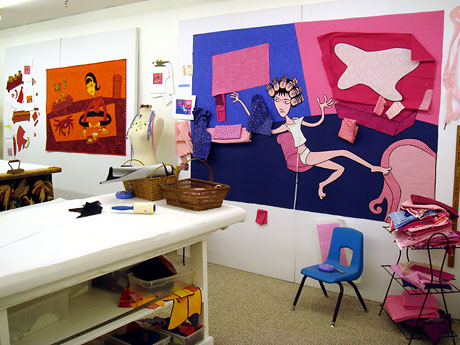 The sad part is I don't think I entered my best photos. Silly me, I had this crazy idea that I would make another, probably illegal entry from PaMdora, not really to cheat — but because I thought it would be funny if she entered the mock-studio installation at the Pool Art Center Gallery. Unfortunely, it proved to be too much for me, and I never got the joke studio submitted. I know you think I've been slacking off in the art department, but since the opening of that show, I've hard at work on a re-vamp of my website which will include a photo tour of that installation.
In the meantime, enjoy a visit to FiberArt Magazine's website. You can read stuff I wrote about my studio. There are also 43 other artist studios on display, and you can VOTE here for the winners (hint, hint, I've been selected for the Best Stash category :)!