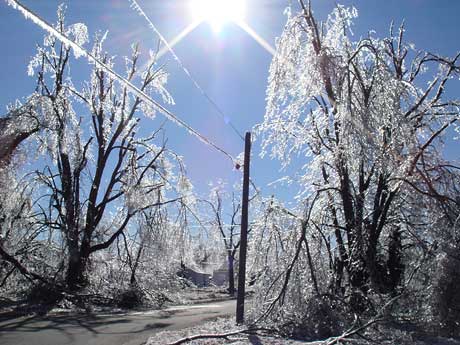 Yesterday the sun was shining, so some of the ice melted — but not much. Today was cloudy and snowy and now an icy rain is falling. Predictions are for another two inches of sleet, so this does not bode well for getting back to normal life. Here's a link to more ice storm photos.
Yesterday I had a photo session scheduled at my Perils of PaMdora show at Pool Art Gallery for a March article in Signature Magazine. Although it was difficult, the photographer and I decided to go ahead as planned. It was a great opportunity to get some restoration advice for water damaged slides and photos. His advice seems to be working better than expected, so maybe later I'll write it up to help other artists who might someday have this problem.
I was hoping to look really sharp for my photo session because Bob is an awesome photographer, but as my friend said, we're all looking a little rough these days. Since I have been staying up all night at the studio trying to clean up the flood, I told Bob he had to Photoshop the bags out from under my eyes. Just as he finished and packed up his equipment, a transformer blew up nearby and the whole building lost power, so we finished just in time.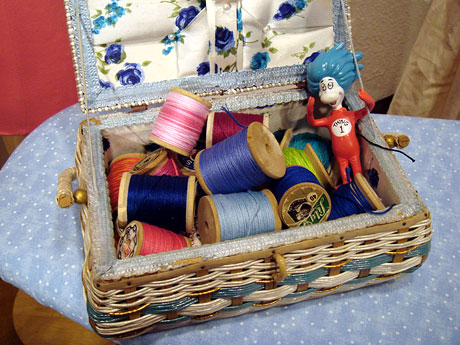 Walking around my show yesterday reminded me of objects that I put in the installation — little things I hoped would express joy in the creative process, a love of my artistic materials of choice, and other small and simple things. These are embroidery threads that I wind on old wooden spools to keep them organized.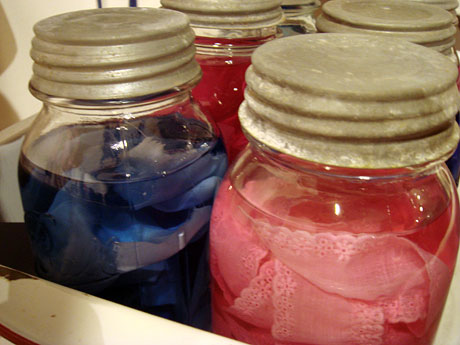 Last fall I saw photos of a Kiki Smith sculpture using jars — and although her concept was very different from mine, I was inspired to include some jars of dye to express the amazing process of hand-dyeing fabric. It was a little tricky to get them to look right — I ended up using bits of vintage lace, something I had been wanting to experiment with anyway.
Before this storm hit I was working on photos of my show to put on my web site. But I've had to drop most creative pursuits for the last week because this storm has become a serious situation in which lots of people are really struggling to just to survive.
Thanks so much to all of you who have sent email sympathies and offers of help. For others, it may be easy to second-guess choices that people make in such situations, but folks here are doing the best they can and have been quite resourceful. We are luckier than many, having a small generator to run the boiler and radiators in our house, a couple of lights, the TV, and DSL box. But to truly keep our house warm, we've had to burn a fire around the clock — and cutting and thawing ice-covered trees for firewood is a full time job.
Then there's making ice on the porch to keep food in coolers at the right temperature, preparing candles for after-dark, feeding the neighbors and elderly people that we have taken in, keeping their abandoned house pipes from freezing, and yada yada yada…. Not to mention many of these people are still trying to go to their day jobs on top of all this survival stuff. I have a new respect and understanding for how hard it is to be a pioneer, a farmer, etc….I'd rather get back to my job of being an artist!
Since we got power back on at our house on Thursday, it's been a little easier, but there are still lots of dark neighborhoods around us. And if you get the power back, you can lose it just as fast because the whole city power grid is unstable and under repair. So we're still stocking up on firewood, and inviting our neighbors over for a shower and load of laundry. It is surprising how important these simple things are if you haven't had them for a week.